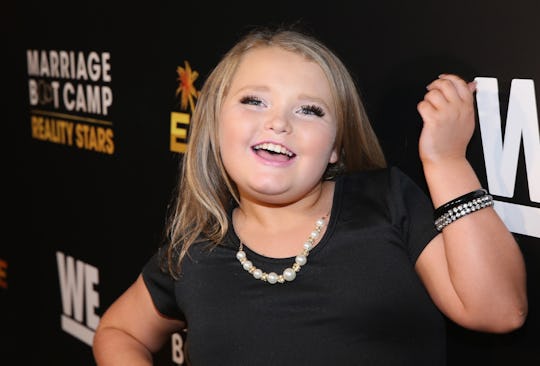 Jonathan Leibson/Getty Images Entertainment/Getty Images
Here's What Honey Boo Boo's Net Worth Looks Like
In the past few years, young reality star Alana Thompson went from a household name to the answer to a barroom trivia night question, but now, she's making a comeback in a third TV series. Viewers might be curious about Honey Boo Boo's net worth, and wondering if an on-again, off-again reality TV career is enough to sustain the child. Will she ever have to get a real job? How long will the money last? It turns out that airing your dirty laundry on basic cable might not be as lucrative as you'd think.
Thompson, better known as Honey Boo Boo, made her debut on Toddlers and Tiaras, appearing in 36 episodes between 2012 and 2013. She and her mother, "Mama" June Shannon, became the breakout stars of the series after after an infamous scene depicting Shannon feeding her 6-year-old daughter "Go Go Juice," a mixture of Mountain Dew and Red Bull, in order to get her energized for a child beauty pageant. The pair were given their own spin-off, Here Comes Honey Boo Boo, which also featured Thompson's father, Mike "Sugar Bear" Thompson, and her half-sisters, Anna "Chickadee" Shannon (now Anna Cardwell), Jessica "Chubbs" Shannon, and Lauryn "Pumpkin" Shannon.
Some viewers criticized the series as being exploitative because the rural Georgia family was portrayed as junk food-eating, gas-passing, extreme-couponing rednecks. This is no exaggeration; the premiere episode centered around the Shannon-Thompson family's attendance at the "Redneck Games," and, as TIME's review so eloquently sums it up, "The theme song of TLC's Here Comes Honey Boo Boo is a fart." It was never quite clear if the family was in on the joke, and, if so, to what extent, but at least they were getting paid, right?
It's also unclear just how much the star of the series made, though. The oft-cited Celebrity Net Worth claims that Honey Boo Boo herself has $800,000 in the bank, and that the family received $50,000 per episode for the series. But that site hasn't been updated since March 2014, before the show was canceled, and according to various interviews with the family, that $50,000 figure might also be inaccurate. Cardwell sued her mother in 2015, alleging she was owed royalties from the show, and June told TMZ that the family's contract was for $22,500 per episode, one-third of which was to be divided equally among her four children. In addition to a lump sum payment upon cancellation, that would mean that Honey Boo Boo and each of her sisters were paid about $64,000 total for the show's three-season run.
It's unlikely that Honey Boo Boo had much in the way of assets before her show, either. She competed in beauty pageants, but according to NASDAQ, the entry fees and associated costs of participating in such events can cost tens of thousands of dollars, and "cash awards rarely exceed $1,000." As for her first TV appearances, Radar Online claimed that the child stars of Toddlers and Tiaras were not compensated. Still, $64,000 is more than most tweens have, unless she's been blowing it all on bubble gum and comic books, and it could pay for a decent education in a few years.
Here Comes Honey Boo Boo was canceled in 2014, after TMZ reported that June had begun dating Mark Anthony McDaniel, a registered sex offender who was convicted of aggravated child molestation 10 years prior. This led to an estrangement between June and Cardwell, but June told Radar Online that she and McDaniel broke up after two months, and she and her eldest daughter are once again on good terms. Her new show, Mama June: From Not to Hot, premiered on We TV in February 2017, and according to E! News, viewership was over 1 million for the entire first season, so it looks like fans have forgiven her, as well. Honey Boo Boo appears on the series, so that should earn her a little more spending money. Season 2 premieres Friday, Jan. 12.
Check out Romper's new video series, Romper's Doula Diaries:
Watch full episodes of Romper's Doula Diaries on Facebook Watch.