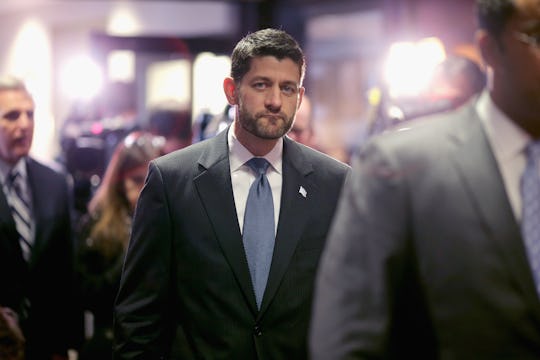 Getty Images
House Approved Changes To The Visa Waiver Program, & For Once, Both Parties Seem To Agree
In the wake of the alleged terrorist attacks in San Bernardino last week and a heated public debate on accepting Syrian refugees, the House of Representatives approved changes to the visa program Tuesday night. The Visa Waiver Improvement and Terrorist Travel Prevention Act will require visas for anyone who's been in Iraq and Syria in the past five years and any country that's deemed a terrorist "hotspot," according to the Associated Press. It's really all about the "visa waiver program" which allows people traveling to the U.S. to stay in the country for 90 days without a visa if they are from a certain set of 38 countries.
Thirty of those countries are European, including England and France, and home to thousands of refugees from the Middle East that could, theoretically, be radicalized. It's not totally misinformed: the Paris attackers allegedly entered Europe posing as refugees, so the tightened controls on travel to the U.S. from Europe without a visa is an attempt to better control and monitor who enters the country.
The new restrictions would require travelers from the visa waiver countries to be checked with Interpol databases, and their home countries will have to issue "e-passports" with biometric info, like fingerprints and eye scans.
Deciding who enters the U.S. has been the topic of much political debate in the past weeks. On Monday, Republican presidential candidate Donald Trump announced a plan to restrict Muslims, in general, from traveling to America. He was met with criticism from both sides of the aisle, including Speaker Paul Ryan who championed the legislation's passing tonight on Twitter. It's a tempered, legal, and logical way to check who's coming into the country. Terrorists like "shoe bomber" Richard Reid and Zacarias Moussaoui, the "20th hijacker" from 9/11 both entered the country under the program.
There were some Democratic lawmakers who opposed the bill, namely Rep. Keith Ellison of Minnesota who said that the bill's focus on country of origin is misguided and that the U.S. should focus on terrorism overall. But with a vote like 407-19, it looks like for once, in a very long while, both parties are in agreement.
Image: Chip Somodevilla/ Getty Images