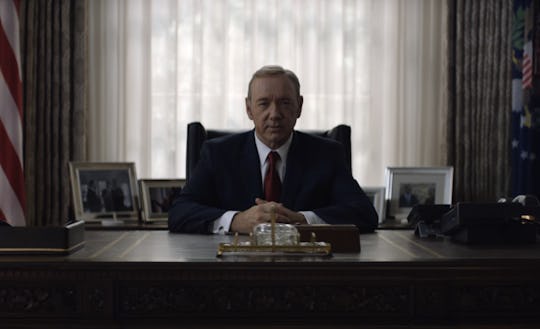 'House Of Cards' Golden Globes Trailer Hints At What Frank Underwood Is Up To — VIDEO
It's Frank Underwood time. Tonight during the Golden Globes, another House of Cards trailer aired, and didn't it just get you all ready to watch the new season? (*Raises hands*) House of Cards premieres March 4 on Netflix, but as the show is wont to do, there's been pretty limited advertising around it. However, because we're in the midst of an election season, the Netflix original series has aired its trailers for the upcoming season with pretty spot-on marketing: once, during the GOP debate, and tonight, during the Golden Globes award show.
The first House of Cards trailer debuted during the Republican presidential debates last month. Like Frank Underwood, the show goes big. With all eyes (and eyes that love good television) on the Golden Globes tonight, it was a perfect way to get everyone to set a reminder on their calendars for the March return. The first trailer focused more on setting up the fact that Frank Underwood is now running for president. In fact, there's a whole "campaign site" where you can read about his policies and buy swag. Really.
This time, the trailer is all about the leader America deserves. It's pretty creepy, since we all know that the Underwoods are brutal, ambitious, and pretty cold. (But oh, how we love them.) We'll have to see what Season 4 brings and whether that's true. What America did deserve tonight was to see Robin Wright at the Golden Globes. The actress, who plays Claire Underwood on the Netflix drama, was nominated for Best Performance by an Actress for House of Cards tonight, but she was nowhere to be seen.
It's probably a good thing this show just gets darker and darker. Especially during this election year, it's a nice reminder that things aren't that bad. Or are they?
Here's a peek at the new trailer in case you missed:
Welcome back, Frank. We missed you.
Image: Netflix US & Canada/YouTube