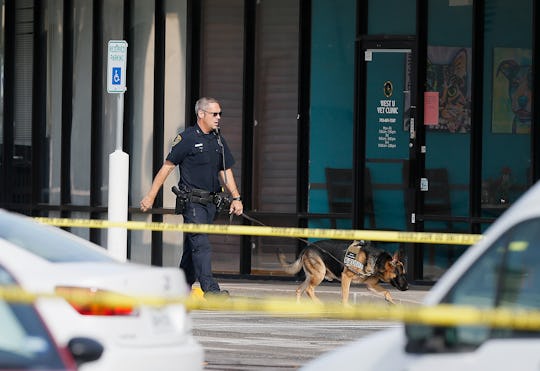 Bob Levey/Getty Images News/Getty Images
Houston Gunman Was Wearing Nazi Uniform When He Was Killed, According To Police
On Monday afternoon, a lone gunman opened fire and injured nine people before being shot by police. The Houston gunman was wearing a Nazi uniform when he was killed and also had other paraphernalia and weapons in his vehicles, according to the Houston police department. The Federal Bureau of Investigation and authorities identified the man as Nathan DeSai, a disgruntled lawyer who opened fire in a southwestern neighborhood of Houston from his black Porsche. He was wielding a "Tommy gun" and a handgun when police fatally shot him.
According to Reuters, authorities don't believe that DeSai was involved with a radical group and acted alone. Houston Mayor Sylvester Turner, who is currently traveling in Cuba for business said in a statement that "the motivation appears to be a lawyer whose relationship with his law firm went bad."
Despite any apparent affiliations, DeSai left a car full of weapons which is now being inspected by a Houston bomb squad, according to a tweet from the police department's official account. It could be that the media was way too involved with prepping for the first presidential debate in New York on Monday afternoon, but the shooting and the fact that DeSai was wearing a Nazi uniform hasn't sparked too much outrage on social media — and users immediately took notice.
Some onlookers instantly called out a perceived double standard. One user wrote, "A wannabe Nazi shot some people in #Houston today. Imagine the media frenzy that would've ensued if he was a Muslim." That sentiment circled social media as many took issue with the fact that the gunman didn't seem to be affiliated with any current terrorist organization and just sporting a "vintage" uniform.
Nine were injured during the shooting, with six of the victims being treated on the scene. Two victims were announced critical, but are expected to survive, according to police officials on the scene.
DeSai reportedly had two other weapons in his car and "thousands" of rounds of ammunition, according to initial reports. DeSai was a lawyer at Kenneth McDaniel at McDaniel & DeSai LLP in Houston and neighbors reported that there had been some recent conflicts, but no motive for the shooting has been confirmed.