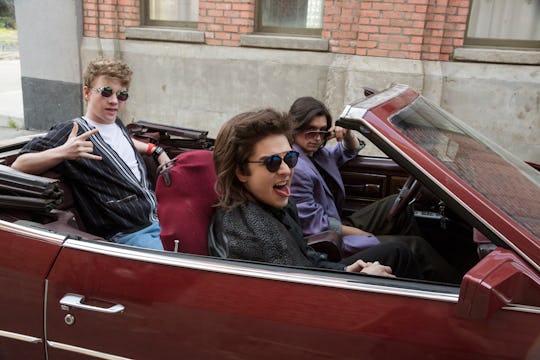 Lifetime
Lifetime Is Diving Into The Alleged Hollywood Abuse Of Corey Feldman & Corey Haim
Lifetime movies often tackle true stories, and their newest delves into the lives of '80s icons Corey Feldman and Corey Haim. But sometimes the network's attempts at telling a true story can take a degree of dramatic license (remember that Lizzie Borden series?) or explore alleged but unconfirmed information. The trailer for the movie about Haim and Feldman indicates that it will tackle some of the darkest moments of their youth in Hollywood, but how accurate is A Tale of Two Coreys?
It's difficult to be entirely certain when judging the veracity of the film because it's about two people, but only one is currently alive to tell the tale of what happened. Corey Haim died in 2010 of pneumonia, and it seems A Tale of Two Coreys relied primarily on information provided by Corey Feldman. He was an executive producer on the project and contributed to the story. Some of the events depicted in the film have been in the news for decades, such as the drug addiction that both young men battled and the childhood sexual abuse that Feldman claimed they both endured.
Feldman spoke to People about the limitations of telling that story on television. "Because it is a TV movie they couldn't go into specifics — like when it came to who Haim's actual abuser was, we had to sugar coat that and present it in a more TV applicable way," Feldman said. "It's like putting a G rating on an X-rated storyline. There was a lot of sex and drugs that were a part of the story which obviously you can't show on television."
In addition to navigating ratings and adjusting events to reflect that, there were likely legal issues related to outright naming abusers. Had Lifetime done so, they could have opened themselves up to a lawsuit if one of the named men decided to take legal action. Following the Weinstein accusations, Feldman expressed a desire to name his and Haim's alleged abusers, something he had previously avoided. In a 2016 interview with People, Feldman explained that he stayed silent out of respect for Haim's mother Judy.
Feldman has discussed the alleged sexual assault before, but always under the condition of anonymity, partially out of fear for his own safety. Feldman opened up in his 2013 memoir Coreography and in an appearance on The View after its publication, where he said, "There are people that did this to me and Corey that are still working, they're still out there, and they're some of the most rich and powerful people in this business. And they do not want what I'm saying right now. They want me dead."
Judy Haim had disputed Feldman's allegations of a powerful pedophile ring in Hollywood, instead claiming that he was dragging out the name reveal to get publicity and money for a crowdfunded film project about the abuse. While she acknowledged that Haim had been sexually assaulted on one occasion, she believed it to be an isolated incident and not the repeated abuse Feldman claimed. "He's been talking about revealing the names of his and other abusers for seven years, since my son died," she told The Hollywood Reporter. "Now he wants $10 million to do it? Come on. It's a long con. He's a scam artist. If he was serious about this, he'd share the information he has with the police."
Feldman did report the abuse to the LAPD and it was investigated, but the case could no longer be prosecuted because the statute of limitations had expired. Feldman and Haim also discussed their abuse on their 2007 reality show The Two Coreys, which resulted in an argument. At the time, Haim alleged that Feldman bore some responsibility in Haim's rape, which occurred when he was 14 years old, because Feldman was friends with Haim's attacker. Haim felt Feldman did not protect him. Feldman responded by claiming that he, too, was being abused at the same time, and presumably was not able to protect anyone.
It seems Lifetime's A Tale of Two Coreys, which premieres on Saturday, Jan. 6, will be accurate to Feldman's recollections, but it bears repeating that Haim is no longer around to confirm or deny Feldman's allegations. The stories of addiction and claims of abuse have been circling for years, so there will likely be some truth to the movie even if the information is officially unconfirmed and sanitized for television.
Check out Romper's new video series, Romper's Doula Diaries:
Watch full episodes of Romper's Doula Diaries on Facebook Watch.