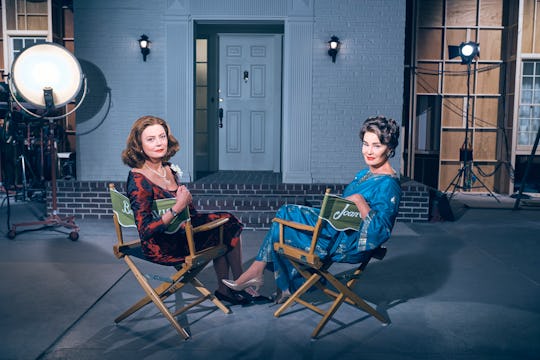 Kurt Iswarienko/FX
'Feud: Bette and Joan' Is Filled With True Events
FX's new series Feud: Bette and Joan tells the story of two women who simply could not stand each other, and what happened when they had to work together despite all of that. The show will detail the antagonism between real-life movie stars Bette Davis and Joan Crawford, played by Susan Sarandon and Jessica Lange respectively, as they came into conflict on the set of the only movie they ever made together: the horror classic What Ever Happened to Baby Jane? The film was a comeback for both women, but it also brought the tensions between them to a boiling point. But just how accurate is Feud: Bette and Joan? Is it really based on true events?
When it comes to Davis and Crawford, the truth might be even wilder than fiction. Hatred sparked between the women when they were young and continued for the rest of their lives, even after Crawford's death. In fact, one of Davis' famously salty remarks after Crawford's passing basically summed up exactly how they felt about each other: "You should never say bad things about the dead, only good. Joan Crawford is dead. Good!"
Though many factors contributed to Crawford and Davis' distaste for one another, their feud began because of the simplest and most common of causes: a love triangle.
In 1935, Davis was starring in the film Dangerous alongside Franchot Tone, with whom she fell madly in love over the course of filming. Tone, however, had a fondness for Crawford instead. She allegedly seduced him by inviting him over for dinner one night and then waiting naked in her solarium to surprise him; whatever happened must have been effective, because they were quickly married. It was a short-lived union and the grudge between Davis and Crawford lasted much longer.
After that inciting event, minor resentments built up over the years. Davis considered herself a serious actress, but dismissed Crawford as little more than a movie star who slept her way to the top, making many a snide comment about Crawford's penchant for dating around. (I know it was the 1940s, but not cool, Bette.) Davis passed up the lead role in Mildred Pierce and Crawford went on to win an Oscar for it, making Davis regretful. They snipped and sniped at each other constantly, which made it surprising when they decided to work together on What Ever Happened to Baby Jane?
The film's plot played on their real rivalry, which leveled up a notch during filming. They sabotaged each other when they could: Davis supposedly kicked Crawford in the head during the filming of one shot, and Crawford exacerbated Davis' bad back by wearing weights under her clothes during a scene where Davis had to drag her across the floor. And if the trailer is any indicator, fans will get to see at least some of that hostility (especially the head-kicking part) in the show.
However, Crawford made perhaps her pettiest move after filming ended. She wasn't nominated for an Oscar for her work in the film, but Davis was, so Crawford went around to all the other Best Actress nominees with an offer: if they couldn't make it to the ceremony, then she would be happy to accept on their behalf. When Anne Bancroft won that year for The Miracle Worker, Crawford swanned up to the stage to accept for her while Davis was left fuming in the audience. They always found a way to get under each other's skin.
Their rivalry was the very definition of a feud: long-lasting, deeply felt, and as petty as could be. It's also perfect for a fictionalized adaptation. With all the glamour, drama, and sass on display, Feud promises to be one hell of a journey that will highlight some of the main (and very real) issues these two Hollywood actresses had with each other.