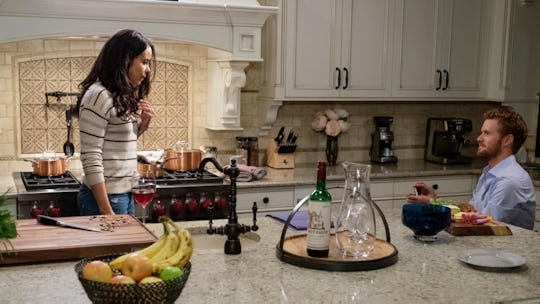 Lifetime
Lifetime's 'Harry & Meghan' May Take Some Liberties With This Royal Love Story
It's hard to know what really goes on in the royal family's life since all we have to go on are statements from Kensington Palace, pictures of the family fulfilling their public duties, and, of course, adaptations of their lives on television. So it's totally fair to wonder whether or not Lifetime's Harry & Meghan: A Royal Romance is accurate or not. The movie is going to be good no matter what, but hey, I'm nosy. I want to know if all the reenacted scenes are really reenacted or just made up by some random but talented Hollywood screenwriter.
One thing for sure is that the actors playing the royal family — Kate Middleton and Prince William included — look as much like the real thing as possible. As are the costumes, according to Fashionista. Costume designer Claudia Da Ponte told the website that she felt like "such a stalker designing this show." Since the royal romance wasn't documented in the press or on social media and was kept under wraps, she and her team had to get creative.
"We were able to piece together a timeline of roughly what she wore and then, basically, we used brands she actually wears in real life and we just tried to match everything to reality as much as we could," she added. So the clothes are as realistic as humanly possible, but what about the actual plot and certain pivotal scenes?
According to co-screenwriter Scarlett Lacey, she and her team tried to make it as true to life as humanly possible, all in just a few weeks. But remember -- this is a Lifetime movie. The point is to make things a little more extra than they might have been in real life. Lacey said, according to Elle, "We tried to be really truthful. We used our imaginations in places, but there was so much available, from Meghan's own words [via her interviews and blog]...There were so many things we knew to be true, if not in words, then in spirit."
After the couple's engagement, they gave a long interview about their relationship and romance in which they divulged a couple of intimate moments. So the writers were able to use their own words to construct some of the more important moments, like the proposal in the kitchen or certain dates.
One moment, like when Harry released a statement to the press about bullying his fiancé, was dramatized, too. In the scene, Markle is upset that Harry comes to her "rescue," while the Middleton character calls it the "most romantic" gesture. In the end, it's Markle's mother who helps the couple get back together.
It's unclear if events unraveled as dramatically in real life as they do in the movie, but it is pretty intense. In the film, the fallout from the statement is a moment that tears the couple apart, but then brings them back together again, so it had to be a little turned up. Co-executive producer, Michele Weiss, in an interview with the Washington Post, "The statement that Harry released … that's a pretty incredible departure of how the royals tend to respond to things like that. We were trying to create something that made sense given who they are and their circumstances."
According to Vanity Fair, the movie is realistic enough to have the royal family a little worried about their image. In one scene, Harry and Meghan are shown kissing in bed together. It's nothing too racy, but rumor has it that Kensington Palace is not exactly thrilled. Director Menhaj Huda told Vanity Fair, "What I've heard is that they're seriously worried about the sex scene." Apparently, his wife has a friend who is dating a palace communications officer, so he has a pretty direct source. Still, they haven't tried to change anything or stop the movie from airing on television.
The verdict? Harry & Meghan: A Royal Romance is as accurate as any movie can be about a royal couple's life. We'll never know for sure what they're really like behind closed doors, but the family is obviously not too disturbed about how they're portrayed... which is a good thing!
This article was originally published on