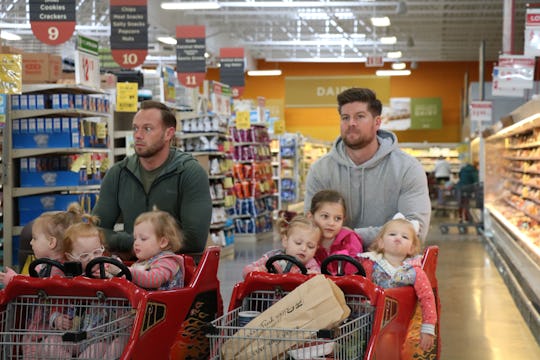 TLC
Exclusive Clip: Watch Adam Plan The Perfect Valentine's Day On 'OutDaughtered'
The holidays can be tense, which has been proven time and time again on the third season of TLC's OutDaughtered. Viewers saw Christmas plans get changed and children shriek over Santa Claus; next, they'll get to witness New Year's readjustments and Valentine's Day shenanigans. In this exclusive OutDaughtered clip, it's revealed how Adam and Danielle Busby spend their Valentine's Day now that they are parents. Adam clearly wants to do his part to impress Danielle for Valentine's Day, so hopefully he'll be able to make the day one to remember for everyone.
OutDaughtered airs on Tuesdays at 9 p.m. on TLC. In this exclusive clip from the upcoming ninth episode, Adam seeks help from Uncle Dale to up his game on the dance floor. He starts off by saying that Danielle made fun of him when he told her he was taking their eldest daughter, Blayke, to a dance, but also noted that she seemed a little jealous deep down. That could be because dancing isn't a regular activity for her and Adam. In a confessional, he explains, "It's not that I haven't wanted to take Danielle dancing all these years, it's just I don't want to embarrass myself in a room full of people."
However, Adam is willing to try and overcome his trepidation about dancing in public, especially because he "wasn't exactly husband of the year last year for Valentine's Day," in his words. To make up for it, he decides to take Danielle dancing this year.
Dale misunderstands at first and asks if Adam means ballroom dancing — and, by the way, five toddlers ballroom dancing is absolutely something I would watch — but he quickly sets Dale straight. Line dancing is what's popular in their area, so Adam figures he and Danielle can do that. Dale informs him that line dancing is the easiest kind of dancing there is, and he'd be happy to show Adam a few steps to boost his confidence. Dale has experience, too: if he's at a wedding, he won't hesitate to bust a few moves.
The clip then cuts to Dale and Adam practicing with an audience of mostly disinterested quintuplets. "All you gotta do is smile and laugh with Danielle and she's gonna think you're having fun," Dale announces. Then he starts a song, reiterates that Adam should have fun with this, and shows off a few shuffles. "It's all in the hips," Dale says before advising that the song doesn't matter as long as you can effectively step side to side with your thumbs in your belt loops. "There's not much to it."
The majority of the girls are unenthused by this display, but when Dale invites Hazel to dance (which involves him tickling her until she giggles), she hops over immediately. Then it's time for Adam to attempt the moves himself by taking three steps to the right and three steps to the left, per Dale's instruction. Then he has to kick four times and turn. Hazel is somewhat less enthusiastic about Adam's line dancing, resisting when he tries to get her to join in. In the confessional, Adam says, "I mean, does this make me feel any better about my dancing skills? No, not really."
Dale does not seem to feel better about Adam's skills either, watching him quietly for a moment before pronouncing, "What a mess. You better practice." Hopefully with enough turns around the dance floor (or living room floor, as the case may be), Adam will be able to polish up his routine enough to earn Danielle's admiration on Valentine's Day. Either way, it's the thought that counts. Viewers can find out if Danielle is impressed when the new episodes premiere tonight on TLC.