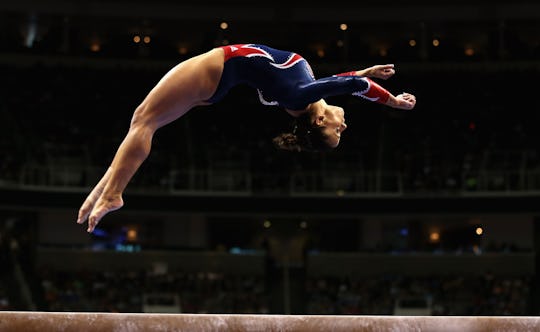 Ezra Shaw/Getty Images Sport/Getty Images
How Alicia Sacramone Is Making Gymnastics More Body Positive
Many women spend their teenage years feeling judged by their peers. But for retired gymnast Alicia Sacramone, criticism from fellow teens was nothing comparied to the critiques she faced from coaches, the media, and even herself. Growing up in a sport that is all about scrutiny — both of one's performance and physical appearance — the former Olympian struggled with body image issues. But now that she's no longer competing, Sacramone is trying to make gymnastics more body positive for current and future athletes.
"This sport is very opinionated, so people have no problem telling you 'that leotard doesn't look good on you,'" Sacramone tells me during a discussion about her latest project, Purina's Roll Over For Hunger campaign. "As a young girl it's hard because you're taking that criticism personally. I think it affected me for a long time."
This is not the first time Sacramone has spoken out about the effects gymnastic took on her body confidence. In a 2011 with ESPN The Magazine, the two-time world champion shared that gymnastics made her jaded when it came to her body. "Wearing spandex as a teenager in front of a billion people is tough," she told the magazine. "I'd look in the mirror before a competition and think 'I hope i don't look fat.'" She noted, however, that she learned to appreciate her body more after retiring from the sport in January 2013.
Still, it shouldn't take leaving the sport to learn to love yourself, which is why Sacramone uses her role as an athlete rep for USA Gymnastics to make sure gymnasts are being taken care of. Sacramone makes it her job to speak on behalf of the current athletes and fights for their needs. One of the biggest battles she faces is getting the gymnasts better health education.
Building strong women is something the younger generation of coaches is trying to do.
"It should be about teaching healthy habits and how to get in shape the right way instead of the these barbaric methods where you're in one of those sauna suits and you're running on a treadmill," Sacramone says, adding that it's also important to "promote self-love and healthy body image" among the athletes.
But that process has to start before the athletes are thrust into the media limelight, which is why, as a coach, Sacramone says she makes sure to teach her gymnasts about healthy choices.
"I never want to make them feel bad about themselves. It's going to scar them in the long term," she says. "Building strong women is something the younger generation of coaches is trying to do."
And part of building strong women means teaching them how to block out the negative, which is easier said than done in a sport where the execution of every jump, flip, and landing can be the difference between a gold medal and being left off the podium.
"The first thing we try to teach the kids we coach is that if you feel like you did a great routine that's all that matters," she says. "If we're telling you that you did a great routine, then that's what you need to be happy about. Don't be upset by not scoring the highest score."
Again, easier said than done. And Sacramone is about to face the challenges of instilling body positive and general self confidence in her daughter. Sacramone and her husband former NFL player Brady Quinn are expecting their first child this summer and couldn't be more excited.
"It still hasn't sunk," Sacramone says. "Yes she's growing, but I'm like, 'Is there really a baby in there?' I really just want to see here." Despite the new mom jitters, Sacramone thinks taking on the role of coach will help prepare her for the challenges ahead.
"I deal with more personal issues in the gym every day than gymnastics issues," she says, adding that finding out she was expecting a girl made her more nervous. "I'm around girls all day," she says. "I'm like, 'I know what's in our future. 16 is gonna be rough.'"
Sacramone's friends have already started buying leotards for her future daughter, but don't expect the former Olympian to put her child on the balance beam as soon as she comes out of the womb. "If [gymnastics] is something she choses to do, it's totally fine," Sacramone says of her daughter. "I'm definitely not going to coach her, though. I've seen the mom-athlete dynamic, and it's hard."
But Sacramone shouldn't be too nervous about her daughter choosing to follow in her footsteps. Thanks to her efforts to make the sport more body positive, she may be saving future gymnasts from a childhood spent analyzing their appearances in a mirror and, instead, setting them up for a future when they can love their bodies for all they do.