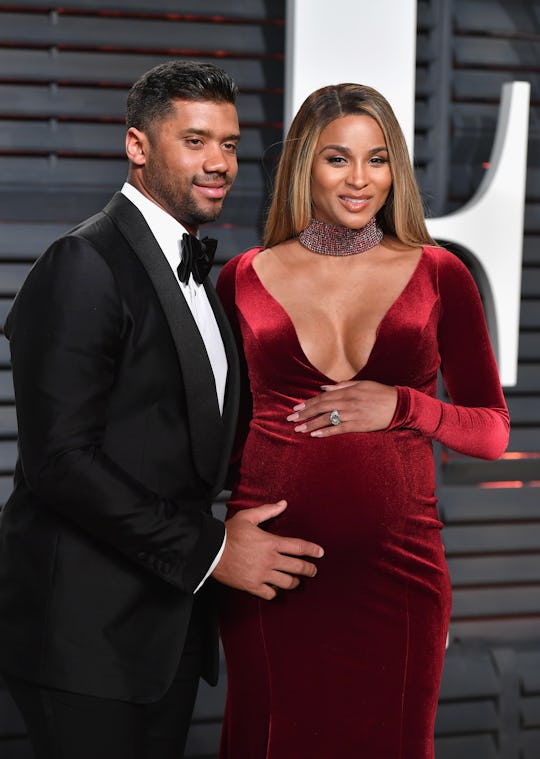 Pascal Le Segretain/Getty Images Entertainment/Getty Images
How Amniotic Fluid Kept Ciara's Baby Safe
In case you weren't aware, Ciara and husband Russell Wilson are expecting a baby any day now — and in these final few weeks of the singer's pregnancy, Ciara is rightly praising her body's natural shield of protection for her little one. On Friday, Ciara was in a minor car accident in Los Angeles in which another driver slammed into the passenger side of her Mercedes. Luckily, neither driver was injured, but it was a scary situation regardless, and Ciara made certain to ensure fans that her little one was safe and sound as well, pointing to amniotic fluid as her saving grace. Wondering how amniotic fluid kept Ciara's baby safe? In short, it acts as a cushion, protecting the baby. But that's not all the fluid can do.
According to a statement released from Ciara's representative to TMZ, "The driver was illegally in the bus lane and hit the right side of her car." As both drivers were out of their cars immediately following the collision, it was clear that Ciara was probably OK from the get-go. However, as she is in her third trimester, many were concerned for the safety of the baby. According to Parents, "The main risk posed by any sort of car accident is separation of the placenta, which might cause you to experience vaginal bleeding, severe pain, or contractions." Thankfully, Ciara claimed that the amniotic fluid in her muscular uterus helped to protect her little one.
Amniotic fluid is the liquid that surrounds the fetus in the amniotic sac. It is usually clear, although sometimes has a yellow-ish tint to it as well. If you're unfamiliar with the term, this might help clear things up: When your water breaks, it's the amniotic sac rupturing, and the fluid exiting your body, signaling that labor is near.
Before labor, though, the amniotic fluid serves as a sort of shield for the fetus, cushioning it and helping it to develop properly. So, basically, Ciara was absolutely right to be grateful for that amniotic fluid, as it was definitely one of the main reasons her baby was left unharmed.
Ciara's husband, Seattle Seahawks quarterback Russell Wilson, was also quick to reassure fans of both the singer's well-being and that of her baby's this past week. "Momma Wilson & Baby Wilson are feeling great!" Wilson wrote in a tweet on Friday evening. "God is good!"
So while Ciara takes time to recuperate from the accident, fans are definitely echoing her praises of amniotic fluid for keeping her impending bundle nice and safe.