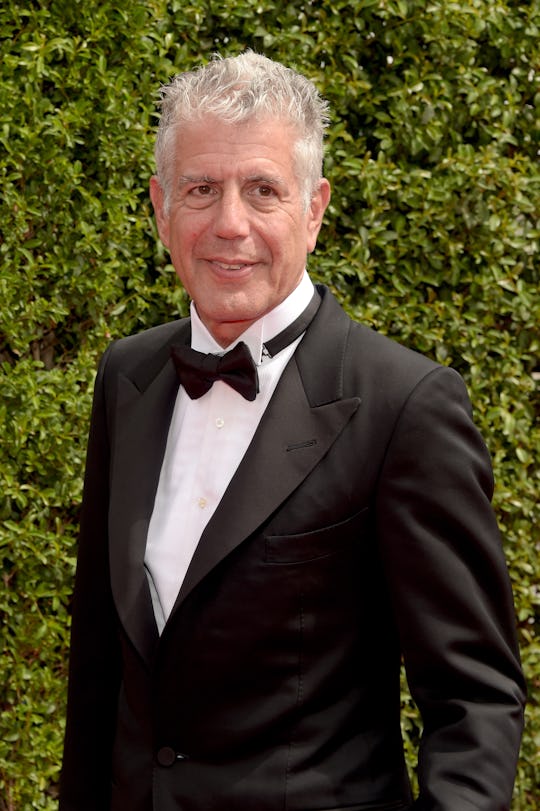 Jason Kempin/Getty Images Entertainment/Getty Images
The Subtle Way Anthony Bourdain's Daughter Paid Tribute To Her Late Father Is So Touching
With the world still in shock and feeling heartbroken following the tragic news of TV host and bestselling author Anthony Bourdain's death, the iconic chef's 11-year-old daughter has found the courage to make a truly heartfelt gesture. As People reported, Bourdain's daughter paid tribute to her father on Sunday with a move that was subtle, yet so touching.
Ariane Bourdain performed a concert over the weekend at New York City music venue DROM, as reported by People. A photo of Ariane on stage shared by her mother, Ottavia Busia — who was married to Bourdain from 2007 to 2016, according to People — shows the young girl holding a microphone while several other young people played guitar behind her. But there's one eye-catching detail in the photo: the studded black boots she's wearing, which Bourdain bought for her.
"Our little girl had her concert today. She was amazing. So strong and brave. She wore the boots you bought her. I hope you are having a good trip, wherever you are," Busia captioned the photo, which she posted on Instagram on Sunday. CNN reported on Friday, June 8 that Bourdain died by suicide at the age of 61 in France where he was filming an upcoming episode of his hit CNN series, Parts Unknown. Bourdain's representatives did not immediately respond to Romper's request for comment.
Though he would occasionally post photos of his daughter on social media, Bourdain was quite protective of Ariane's privacy, according to ABC News. The news outlet also noted that Busia seemingly honored that effort in her post by showing their daughter only with her face turned away from the camera.
Busia and Bourdain reportedly remained on good terms following their divorce, according to People. In a 2016 interview with the magazine, he told the publication that his busy travel schedule contributed to their split, taking him away from his family about 250 days a year. "My wife and I live, have lived, very separate lives for years. There's no drama here. We get along really, really well and it's not a big lifestyle change happening here," Bourdain told People at the time.
Though their marriage ended, it left him with a daughter he so obviously adored. In 2015, for instance, Bourdain spoke with Mom.me and reflected on the unique life he was able to offer to his daughter through his work and explained his outlook on fatherhood, explaining:
My soul duty as a parent and as a father, particularly raising a little girl who is going to grow up to be a young woman, is that she will never look to men for affirmation, or anyone else for affirmation or self-worth or be physically intimidated by anyone
His love for his little sidekick was evident in the few sweet posts he shared with her on his own Instagram over the years.
"A moment #Ariane," he captioned the photo below, showing them sharing an intimate moment of conversation on the beach.
Bourdain credited the close relationship with his ex-wife with making co-parenting easier, according to People. According to the publication, he explained:
You know, this is a girl who knows her parents are weird. We have somehow managed to raise a very healthy, very happy, self-assured little girl who knows she's loved, who finds her parents entertaining. As a family I think we've done a really good job and I would like to keep it that way.
Since sharing the post of Ariane in the boots Bourdain once gifted to her, many people have taken to the comments section, sending their encouragement and sympathy Busia and Ariane's way during this difficult time. "What a brave girl, keep going beauty 💕," one commented. "Love and light to you and your daughter ❤❤❤," another wrote.
Indeed, the world that Anthony Bourdain brought into so many families' living rooms is now standing behind this brave young woman as she steps forward.
If you or someone you know are experiencing suicidal thoughts, call 911, or call the National Suicide Prevention Hotline at 1-800-273-8255 or text HOME to the Crisis Text Line at 741741.