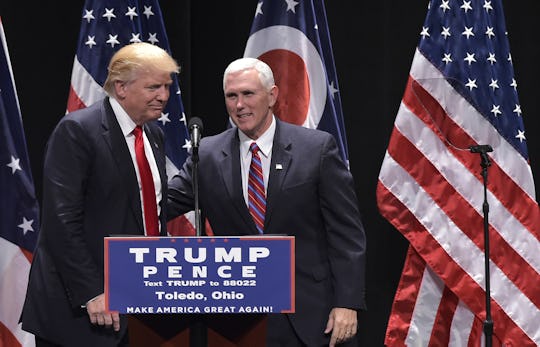 MANDEL NGAN/AFP/Getty Images
How Are Donald Trump & Mike Pence's Syria Stances Different? The Debate Exposed A Divide
Near the end of Sunday night's second presidential debate, Republican nominee Donald Trump delved into the ongoing Syrian conflict, pointing fingers at his rival Hillary Clinton with a lack of finesse expected of someone unfamiliar with current foreign policy. The real estate mogul's inexperience, however, wasn't the only glaring moment of the exchange. Rather, it was the outright inconsistencies with Trump's running mate, Indiana Gov. Mike Pence, that stood out most. So just how different are Trump and Pence's Syria stances?
On Sunday night, Trump was asked by moderator Martha Raddatz what his strategy in Syria would be. Syria has long been the fighting ground for deadly warring between a number of rebel groups, extremist factions, and the Syrian military under President Bashar al-Assad. Rather than answering Raddatz's question directly, Trump punted, citing the support of the "200 admirals and generals" he had received.
When Trump finally got around to answering Raddatz's question, his response was clammy.
"If you were president, what would you do about Syria and the humanitarian crisis in Aleppo?" Raddatz asked. "I want to remind you what your running mate said. He said provocations by Russia need to be met with American strength and if Russia continues to be involved in air strikes along with the Syrian government forces of Assad, the United States of America should be prepared to use military force to strike the military targets of the Assad regime."
Trump seemed to stumble. "Okay. He and I haven't spoken and I disagree," Trump said. When Raddatz questioned his response, Trump floated, "Right now, Syria is fighting ISIS."
It wasn't too long ago that the two men seemingly clashed on foreign policy, with Pence indeed telling the moderators at last week's vice presidential debate that the United States "should be prepared to use military force to strike military targets of the Assad regime" if Russia continued to interfere in Aleppo. Conversely, as Mother Jones pointed out, at a recent campaign rally, Trump noted,
If we could get Russia to help us get rid of ISIS—if we could actually be friendly with Russia—wouldn't that be a good thing?
Overall, while both Trump and Pence veer hawkish, it's the wide gully between their respective understanding (or, in Trump's case, misunderstanding) that set both the moderators and politicos back on their heels on Sunday night.
On Sunday night, Trump reiterated his pro-Russia stance once more. "I don't like Assad at all," he said, referring to the Syrian-Russian partnership between the Assad regime and Putin. "But Assad is killing ISIS. Russia is killing ISIS."
Fact checkers at the Associated Press later noted that that line was largely false. "Not true," the outlet stated. "Syria's President Bashar Assad considers the Islamic State group to be among numerous 'terrorist' groups that threaten his government, but his military is not fighting them." Furthermore, the AP noted, much of the Russian-Syrian air campaign has targeted rebel groups fighting Assad's regime forces, some of which are supported by the U.S.-led coalition.
Within minutes of Trump's skittish answer on Sunday night, rumors were swirling of a Pence departure within the Republican candidate's ranks. Though those rumors couldn't immediately be verified, it's likely safe to assume that, while Trump's muddied foreign policy answer was not the lone sticking point between the two allegedly warring inter-party elites, it did nothing to help the quickly deteriorating ticket.