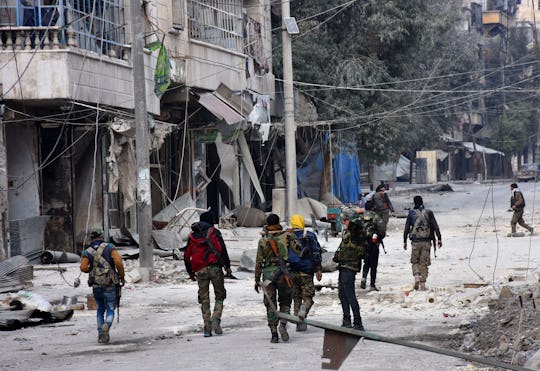 GEORGE OURFALIAN/AFP/Getty Images
How Bad Are The Conditions In Aleppo? High Prices & Low Supplies Have Left Many In Peril
As bombings and a bloody civil war continue in Syria, the United Nations has used the word "catastrophic" to describe the humanitarian situation in eastern Aleppo, the ancient city that's become a key battleground for rebel fighters looking to oust government forces, specifically those heeding the direction of Syrian President Bashar al-Assad. Airstrikes that could come at any moment have forced countless civilians to flee their homes, but still millions of people reportedly remain in the decimated city. So, how bad are the condition in Aleppo? The high prices for scant food supplies and quantities of basic necessities, like water and flour, have left many in perilous living conditions.
Human Rights Watch reports that if aid organizations aren't able bring in supplies and help into eastern Aleppo soon, which aid workers say hasn't been reached since July, its residents are on the verge of starvation, as prices for minimal electricity, water, and food are skyrocketing. Those stuck in the dire situation are in desperate need of help and attention from world leaders. Aleppo's residents also continue to suffer from inadequate aid and lack of medical care.
"Time is running out for Aleppo's civilians," deputy Middle East director at Human Rights Watch Lama Fakih told the organization. "If the UN does not act swiftly, it will be too late."
According to Human Rights Watch, one resident, Bilal, described atrocious and unaffordable living conditions:
Everything is out of service now. The water has been cut and the hospitals are all bombed and all the bakeries too. Food items are really expensive, flour is about US$20 a kilo, sugar is US$13 a kilo. Bread is rationed to only five slices per family. There are no vegetables anymore and no medicine and there is no fuel for cars. We are moving injured people using carts.
The Syrian Civil Defense — known commonly as the White Helmets, which is a group of Syrian civilian volunteers who act as first responders in the Syrian Civil War — Tweeted on Monday that all streets and destroyed buildings "are full with dead bodies" because nobody could evacuate them.
Many residents who are still in Aleppo, but were forced to leave their homes on Monday after Syrian soldiers recaptured neighborhoods, are now homeless and without food or supplies, spending the night on the street.
"I had to leave my home early this morning at 6 a.m.," Karam al Masri, an Aleppo resident and journalist, told CNN on Monday. "I took nothing with me, so did hundreds of my neighbors. ... I have nowhere to sleep (because) all the houses are occupied (by soldiers)."
Masri continued, "I am hungry and cold and exhausted... I don't know what I am going to do."
On Monday, the grave situation led UN Secretary-General Ban Ki-moon to express alarm "over reports of atrocities against a large number of civilians" in Aleppo, according to a statement. It continued:
The United Nations underlines the obligation of all parties on the ground to protect civilians and abide by international humanitarian and human rights law. This is particularly the responsibility of the Syrian Government and its allies.
Also on Monday, UN humanitarian adviser Jan Egeland wrote on Twitter that Syria and Russia were "accountable for any and all atrocities" committed by pro-government militias.
Syria's civil war has created the worst humanitarian crisis of our time and the civilians continue to bear the brunt of the war between forces loyal to President Assad and rebel fighters who are opposed to his rule, in addition to attacks from jihadist militants from who align themselves with ISIS.
For these civilians caught in between, Monday's reports serve as a harsh and important reminder to world leaders to act fast before any more lives are lost.