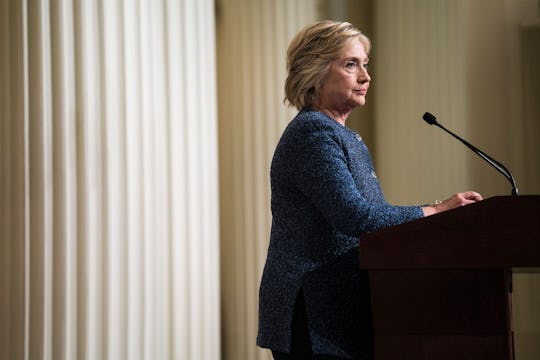 BRENDAN SMIALOWSKI/AFP/Getty Images
How Bad Is Hillary Clinton's Pneumonia? She Should Recover Swiftly
Running for president is no easy task, and it can takes its toll on even the best of them. Take, for instance, Democratic nominee Hillary Clinton: On Sept. 11, she left a 9/11 ceremony abruptly and stumbled as she entered her car, causing plenty of commotion among both fans and dissenters. As it turns out, however, there's no need for (much) worry from the public yet, as Clinton was apparently only suffering from pneumonia (as well as a bout of dehydration). Some might be wondering, however — just how bad is Clinton's pneumonia? Should the American electorate be concerned?
According to Clinton's physician, there's no need to start prepping vice-presidential candidate Tim Kaine just yet. "Secretary Clinton has been experiencing a cough related to allergies. On Friday, during follow up evaluation of her prolonged cough, she was diagnosed with pneumonia," Dr. Lisa R. Bardack told The New York Times in a statement. Dr. Bardack continued:
She was put on antibiotics, and advised to rest and modify her schedule. While at this morning's event, she became overheated and dehydrated. I have just examined her and she is now re-hydrated and recovering nicely.
Shortly after Clinton left the 9/11 ceremony, she was taken to her daughter's house in Manhattan to recover. Only an hour and a half after arriving, she was pictured leaving the apartment again, posing for pictures and waving at crowds. "I'm feeling great," she said, according to The New York Times. "It's a beautiful day in New York." She then returned to her Chappaqua home, where she was examined by Dr. Bardack.
Still, the commotion at the 9/11 ceremony did nothing to quash rumors regarding the state of Clinton's health. Pneumonia seems like a fairly routine illness for a candidate to contract (especially while on the road campaigning endlessly — not to mention hugging plenty of strangers), and Clinton suffers from hypothyroidism and allergies. Several people, however, have been quick to express much more serious concerns about the candidate's health.
Republican candidate Donald Trump has gone as far as to challenge "Crooked Hillary" to release her medical records, while Trump's national spokeswoman, Katrina Pierson, recently alleged that Clinton has dysphasia, a brain disorder that affects a person's understanding of language. Other concerns regarding Clinton's health have been expressed by the former mayor of New York City, Rudy Giuliani, and Trump supporters have been airing alleged evidence of Clinton's supposed ill health on Twitter under the hashtag #HillarysHealth.
The 9/11 fainting episode likely won't help Clinton put an end to those health rumors — but, judging by the statement issued by Dr. Bardack (the only physician who has actually examined Clinton), the Democratic candidate should be back on her feet in no time.