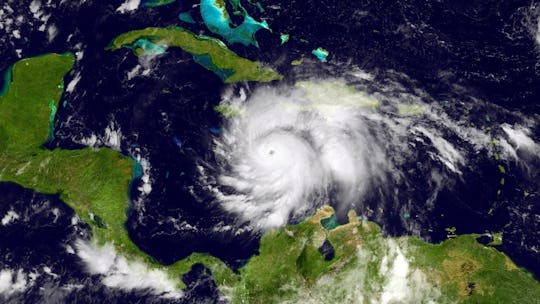 Handout/Getty Images News/Getty Images
How Bad Is Hurricane Matthew Going To Be? It's The Biggest Storm Since 2007
It's always hard to predict just how dangerous a hurricane is going to be and this season is no different. As of Monday night, everyone was still wondering just how bad Hurricane Matthew is going to be as it makes its way around the Caribbean and up the east coast. Matthew is expected to be pretty terrible even though it's moving super slow. Making matters worse, Matthew is planned to hit Haiti, parts of Jamaica, eastern Cuba and the Bahamas, according to The Weather Channel. If you have any travel plans to tropical weather, it's probably best to hold off since there are hurricane watches for the Turks and Caicos Islands, the Cuban province of Camaguey, and the northwestern Bahamas, including the Abacos, Andros Island, Berry Islands, Bimini, Eleuthera, Grand Bahama Island, and New Providence. The islands are already evacuating people before the worst of the storm arrives.
Meteorologists are predicting that southern east coast might see the tail end of the hurricane, too, but since it's only moving at around 7 miles per hour, it could be a while. The National Hurricane Society wrote in a statement, "While there remains significant uncertainty in the track of Matthew in the long range, the threat to Florida and the southeastern U.S. coast has increased."
Hurricane Matthew is expected to his South Carolina by Saturday (I said it was slow moving, right?) and then make its way up the coast. It's possible that all coastal areas should expect some fall out from the storm."Coastal residents from Florida to Canada should be on the alert for possible impacts in a few days, especially given this hurricane's strength and breadth," the Weather Underground's Robert Henson wrote. Florida has declared a state of emergency already.
The hurricane is currently a category four, but it has been a category five, so it's packing some punch It could also return to category five status, which would be a complete disaster, especially for Haiti, parts of the Dominican Republic, and Jamaica. In addition to 140 mile per hour winds, there are about 25 to 40 inches of rain predicted to hit Haiti by Tuesday morning. "This rainfall will likely produce life-threatening flash floods and mudslides. Preparations to protect life and property should be rushed to completion," the NHS said. Waves are expected to push the storm surge to between 10 and 15 feet on the island.
Haiti has suffered through a natural disasters like this before. In 2010, an earthquake killed more than 200,000 people. That resulted in a cholera outbreak that killed another 10,000. The island will most likely be hit the hardest by Hurricane Matthew, but their infrastructure remains weak. It would be very, very good if Hurricane Matthew could just tire out and decide to disperse. But for now it's just a waiting game.