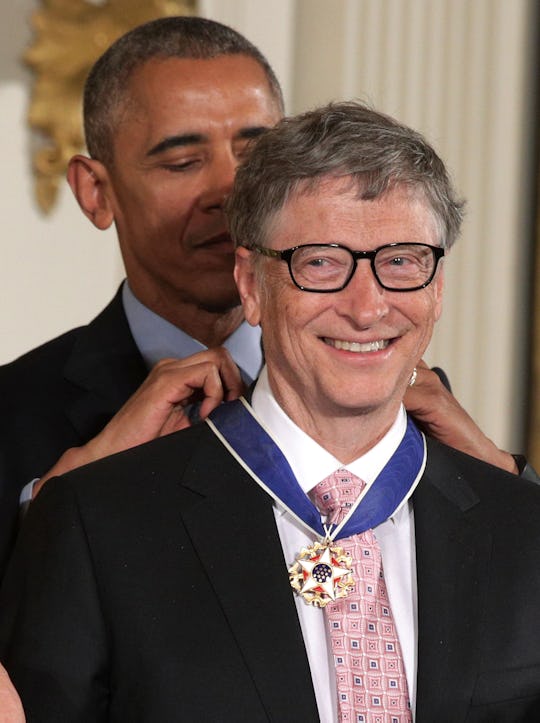 Alex Wong/Getty Images News/Getty Images
How Bill Gates Is Helping The Environment, Because "We Need An Energy Miracle"
I didn't anticipate ever writing this sentence, but it seems like billionaires may be our best hope for saving the environment. As President-elect Donald Trump's administration shapes up to be a climate change-denying nightmare, private investors are picking up the government's slack. Yes, Bill Gates is focusing on the environment, and he's getting other billionaires on board.
Gates, along with Jeff Bezos, Jack Ma, and a whole bunch of other wealthy businesspeople who are interested in not completely destroying our planet, recently announced plans to form a clean energy investment fund worth $1 billion, called Breakthrough Energy Ventures. Over the next 20 years, the fund will focus on fostering and promoting forms of energy that do not produce greenhouse gases, like solar and wind energy, along with some more potentially out-of-the-box solutions.
This cleantech fund has its roots in an energy coalition that Gates announced at the Paris climate talks back in 2015. And its goal, according to its website, is "to provide everyone in the world with access to reliable, affordable power, food, goods, transportation, and services without contributing to greenhouse gas emissions."
Gates, along with his wife Melinda, said in an annual letter that they were focusing on climate change because "we need an energy miracle."
That miracle is especially necessary given what happened with this year's election. Trump's choice to head the Environmental Protection Agency, Scott Pruitt, is a climate change skeptic who advocates for fossil fuels and who makes a habit of suing the EPA, taking pride in fighting against the agency's "activist agenda." Trump has threatened to cancel America's participation in the important, hard-won Paris climate accord, in which countries around the world came together in a pledge to reduce fossil fuel emissions. His transition team has also reportedly asked the Energy Department for the names of employees who worked on the climate talks and on President Barack Obama's other climate-saving goals, an unusual and worrisome move.
Trump also recently said that "no one really knows" whether or not climate change is real, despite the fact that the vast majority of scientists warn that it is a threat. (But hey, what do scientists know? They only spend their lives studying it, whereas our president-elect is, "like, a smart person.")
Luckily for the future of our planet, these particular billionaires are willing to believe the science. Plus, assuming the clean energy movement becomes increasingly important in a fast-changing world, investing in renewable future technology is also a good business move.