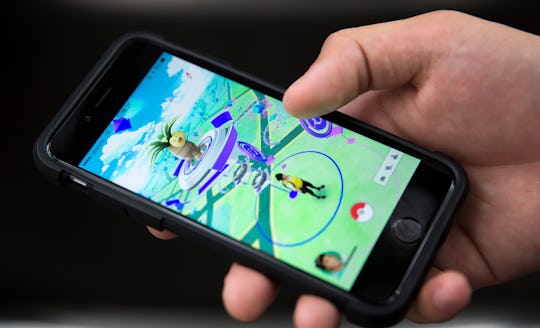 Tomohiro Ohsumi/Getty Images News/Getty Images
How Can I Get More Egg Incubators On 'Pokemon Go'? Having More Than One Is Key
"Pokemon Go" is the game that, by this point, hardly needs introduction. It's been in the news cycle lately because of the masses of people who've taken to the streets in search of elusive Pokemon, sometimes finding their reward, sometimes finding new friends, robbers, cliffs, new parts of their city, etc. It's an exciting, addictive game, but once players are hooked, how do they progress? Collecting eggs can help, but how does one get them? And how can I get more egg incubators on "Pokemon Go"?
First, let's tackle the subject of eggs. It's great to collect Pokemon outright, but collecting eggs allows players to potentially win Pokemon, tools, candies, or experience points, according to The Telegraph. It's a veritable mystery box of useful Pokemon goodies. To find out how many eggs you have, swipe right on the "Pokemon" screen. If you want more eggs, all you have to do is go to a Pokestop and wait. At first, you may just get Poke Balls, but be patient. They'll come.
To hatch one of your eggs, select "start incubating" and it should get the process going. When you begin the game, you should have one free incubator, but incubators are only good for incubating three eggs (one at a time). That means that you will have to get a new one eventually if you want to keep hatching eggs, according to IB Times. But, how do you get a new one? You have to purchase them with Pokecoins gained from the game or gained by changing real-world currency into Pokemon currency. The benefit of having more than one incubator is that you can hatch more than one egg at a time, which means more Pokemon, more prizes, and more leveling up.
Hatching the eggs isn't so easy though. The game requires you to get out and get active. To hatch your eggs, you'll have to travel a specified distance (up to 10km, according to Popular Science) — only then will you get its prized contents. During that time, you'll have to keep the app open, and it doesn't count if you're traveling faster than 20 mph. You could run, walk, or bike, but don't even think about driving to get that distance. The app will know.
Once your eggs hatch you'll see whether you've gained a new creature or something else. The experience points alone are a great prize, according to Forbes. Depending on the type of egg, you could gain up to 1000 experience points for the whole process.