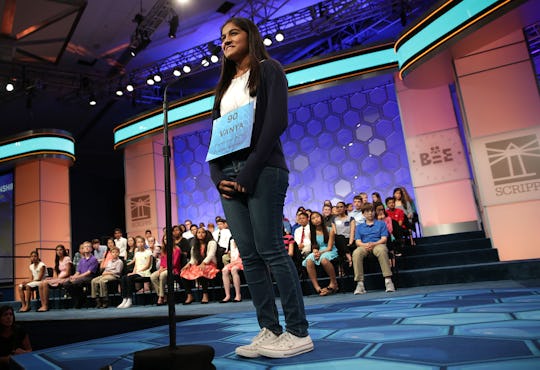 Alex Wong/Getty Images News/Getty Images
How Can I Get My Kid Into The Scripps Spelling Bee? It's That Time Of Year Again
The Scripps Spelling Bee got its start in 1925 when nine newspapers banded together to create an event to promote the English language. Since then, it's crowned 93 champions and grown exponentially, due in no small part to its live ESPN coverage. Whether they needed something to fill a time slot or whether it was some 1990s cultural prescience, who knows — but since the TV channel picked it up, the Scripps Spelling Bee has become something of a Super Bowl for the brains of America. If you're wondering, "how can I get my kid into the Scripps Spelling Bee?" wonder no more. It's too late to jump into this year's competition, but if your kid is interested in entering, they'll need the year to prepare because this competition is no joke.
The Scripps Spelling Bee is open to students who have "neither turned 16 nor passed beyond the eighth grade," according to their website. Students must also be enrolled at a participating school (and not just studying spelling — they have to be taking other subjects, too). The Scripps Spelling Bee is the culmination of many hundreds of local spelling bees. Like a giant bracket, the best student from each region has the chance to compete against the best of the best. So, step one is for your kid to practice like crazy.
Step two: He or she must be declared the champion of a local spelling bee. If, at any step, you child is disqualified, they have to wait until the following year to compete again. But, if all goes well, your kid will submit a completed Champion Bio Profile and a Certification of Eligibility Form to the Scripps National Spelling Bee to be reviewed. If it all checks out, they'll be invited to the Washington, D.C. area for the big event.
But, it's not over there! There are more steps for narrowing down the applicants to the major players. Three days before the finals, Scripps holds three rounds of preliminaries that are designed to weed out many of the spellers, many of whom come from all over the country to try their luck. If they manage to make it through that grueling process, they'll go on to the finals, which is a two-day, broadcasted-live event. If they are the final contestant on the stage, they've won it all.
If that sounds doable (it sounds incredibly intimidating to me, but, hey — I'm no champion speller), and if your child meets the eligibility requirements, start preparing now. Watch this year's Scripps Spelling Bee to scope out the competition. The finals will be aired live on ESPN3 at 8p.m. ET.