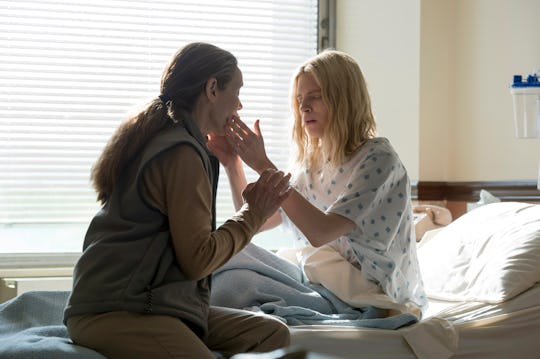 JoJo Whilden/Netflix
How Can Prairie See On 'The OA'? Her Eyesight Is A Mystery
(Warning: this post contains spoilers from The OA Episode 2.) Netflix's new mysterious drama, The OA, will suck fans in from the very start. The show begins with the main character, Prairie, reuniting with her parents after she'd been missing for seven years. When Prairie went missing, she was blind. However, when she returns to her parents she somehow has her sight back. So how can Prairie see now on The OA? Well, I have a few theories on the matter.
In the second episode, Prairie tells her new friends her backstory and it turns out that she wasn't always blind and her name wasn't always Prairie. Her name used to be Nina and she was born and raised in Russia. It wasn't until she and her classmates got into a fatal bus accident that left everyone dead that Nina lost her ability to see. Nina died, just like everyone else, but when she died she found herself in a mysterious place with a woman who asked Nina if she wanted to go back. Nina said that she did, but the woman said that she would have to take Nina's sight so she wouldn't see all the terrible things that were to come. When Nina woke up, or returned to the land of the living to be more accurate, she was blind.
After that, Nina — who became Prairie when her parents, Nancy and Abel, adopted her from her cruel aunt — remained blind until she disappeared and then returned. So how did Prairie get her eyesight back? Well, it's possible she got her vision back the same way she lost it; by dying. Prairie has said that she's died multiple times, so maybe during the time that she disappeared, she died again and met that same women who returned her eyesight for some reason.
However, there is another possibility. Prairie also revealed that the main reason she was gone for so long was because she met a man named Dr. Hunter Hap, who tricked her into going to his house where he then trapped her, along with three others, in his basement. It's possible Hap did some kind of experiments on her that led to her getting her eyesight back. It's still a bit unclear what exactly Hap hopes to accomplish with Prairie and the others that are trapped with her, but perhaps whatever he does actually helps Prairie somehow. For now we'll just have to wait and see what happens next. Hopefully we'll find out the truth about Prairie's eyes and more before the end of the season.