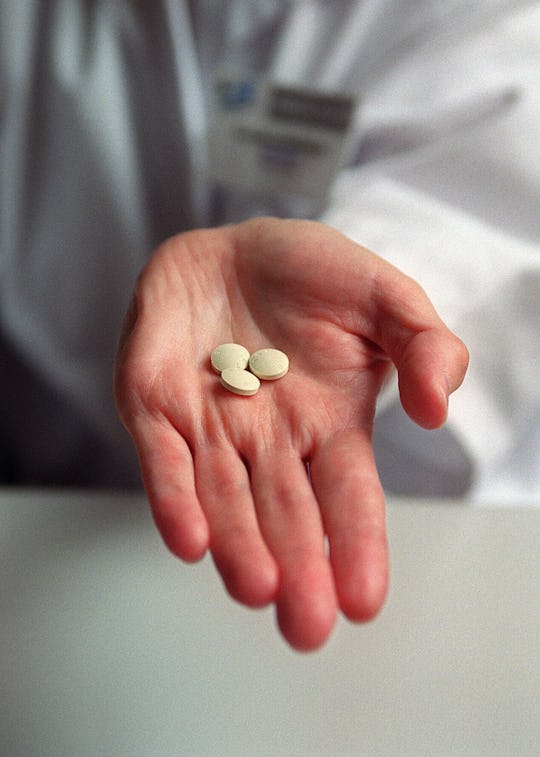 MANOOCHER DEGHATI/AFP/Getty Images
How Can You Get An Abortion Pill? It's Easier Now, Thanks To The FDA
The U.S. Food and Drug Administration announced Wednesday the agency made a change in its guidelines and labeling for the use of the abortion pill that will make it much easier for women to access medical abortions. The change also increases the number of weeks into pregnancy a woman can terminate a pregnancy with the drug. Abortion rights advocates are applauding the shift in FDA guidelines, while those on the anti-abortion side of the issue are accusing the Obama administration of playing election-year politics. So now that the FDA has changed the guidelines, how can you get an abortion pill? Talk to your doctor.
The abortion pill at issue is mifepristone, formerly called RU-486. Abortion opponents had passed laws in several states, including Texas and Ohio, requiring doctors who prescribe the abortion pill to administer the drug based on the directions on the box from the FDA. Which doesn't sound like that big of a deal — except it is. The former FDA guidelines for mifepristone recommend a dosage of 600 milligrams, three doctor visits, and said that the drug could be taken through the seventh week of pregnancy. But practitioners over the years have found that a dose of just 200 milligrams is still effective and reduces side effects in women taking the drug, that only two doctor visits are necessary, and that women can safely take the drug through the 10th week of pregnancy. But anti-abortion crusaders don't want to make abortions easier or more convenient, so they tried to keep the more restrictive guidelines in place and enforced.
So, Wednesday, the FDA just changed the label, effectively making less invasive, pharmaceutical abortions easier for women. Doctors and medical providers are applauding the move to support medical best practices, while opponents view the move as a sneaky way for the Obama administration to throw its weight behind pro-choice groups.
But Susan Wood, the director of the Jacobs Institute of Women's Health and the Milken Institute School of Public Health at George Washington University, told the New York Times the timing of the change is dictated by FDA red tape rather than politics, citing the 10-month review period of any application submitted to the FDA, which in the case of this drug, was submitted last May. The 10-month FDA review period ended on March 29, according to the Times.
"The FDA just responded as part of their regulatory responsibilities, not on a political time frame," Wood said.
Planned Parenthood and other pro-choice groups say the new label is a clear win for women and doctors. Dr. Raegan McDonald-Mosley, the chief medical officer of Planned Parenthood Federation of America, said the move is going to eliminate the need for women seeking an abortion with the drug to sign two separate consent forms, one that explains the FDA guidelines and another that explains the procedure based on medical best practices.