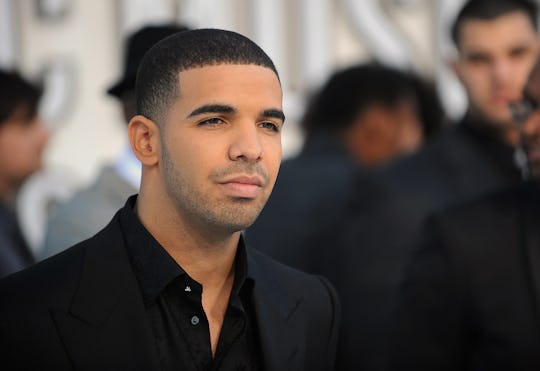 ROBYN BECK/AFP/Getty Images
How Can You Watch Drake's 'Please Forgive Me'? The Rapper Debuted His Own Short Film
Drake's short Please Forgive Me was originally slated for release on September 30th. However, after 1 a.m. EST on Monday morning, the Toronto artist announced on Instagram that there would be an early surprise debut. Following in the visual footsteps of other artists before him, Drake has released a short film to accompany his Views album. Right now, the question fans may be wondering is how you can watch Drake's Please Forgive Me,— and the answer is limiting, at best. His short film can now be seen exclusively through Apple Music. For those with Apple Music, you can view the full film here. For the Apple have-nots, it is currently unknown how the music video will be made 'view'able (pun intended).
Drizzy originally hinted at the visual project last month when he posted various screenshots to his Instagram. It's clear that Drake's acting skills have sharply shifted from his days on Degrassi.
The short film was co-directed by Anthony Mandler, who has previously worked with lightning rods such as Justin Bieber and Taylor Swift. The score is set by Noah "40" Shebib, and Jamaican dancehall artist Popcaan makes a cameo appearance throughout the film. The video was also filmed on-location during a single week in South Africa.
In a little over 21 minutes, fans are gifted with a trip to Johannesburg and Namibia with their favorite rapper, and are given a front-row seat to a high-speed Fast and the Furious-like car chase complete with all of the vibes of Indecent Proposal. In fact, the plot is practically lifted straight from that 1993 film since Drake's unnamed love interest is offered $1 million to sleep with a rich businessman. In a sneaky attempt to make off with the money, things only go downhill.
Drake's latest ties together tracks such as "Controlla", "Hype", "Views", "9", and "Summer's Over Interlude," and of course everyone's highly anticipated "One Dance" with heart-racing action sequences and breathtaking African backdrops.
By taking viewers on an aesthetic adventure, he has contributed to the visual narrative trend set by Beyoncé, and has in a sense, walked the same line as Michael Jackson in "Thriller." Hopefully the short film makes its way to the masses, soon, since Apple Music is rather limiting in those who can watch. In the meantime, though, go ahead and press play on that Views playlist you have in your music library. Just to mentally prepare yourself, of course.