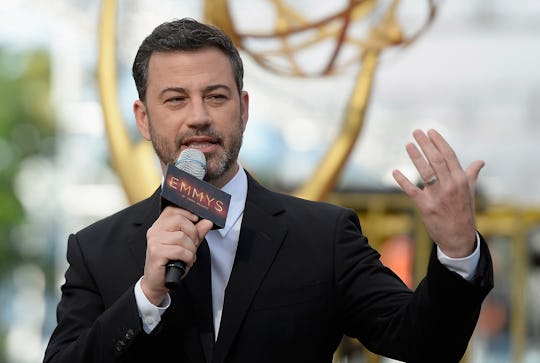 Kevork Djansezian/Getty
How Can You Watch The 2016 Emmys? You Have A Couple Options
It's almost here! The 2016 Emmy awards, honoring the very best of television over the past year will be airing on Sunday, Sept. 18, and no one will want to miss out on experiencing all of the glitz, glamor, upset victories, crushing defeats, long-winded acceptance speeches, and the sure to be hilarious MCing from host Jimmy Kimmel live. So you may be wondering how to watch the 2016 Emmys. Not to worry, I'm here to help you out.
The actual program begins at 8pm ET and will air on ABC. If your primary concern when watching the Emmys is the fashion, then you will want to tune in at 6:30pm for the special red carpet pre-show. As always, E! will also be airing red carpet coverage, beginning at 4:30pm ET. Unfortunately, if you don't have a cable subscription, but you'd still like to get your awards show fix in real time, there aren't a whole lot of options for online live-streaming. I'm sure that there are, of course, some illegal streaming avenues available, but I don't know what those are. And even if I did, I don't think that I could, in good conscience, direct you to them here. Sorry, guys.
ABC.com
If you have a cable subscription but no access to a television because you're, I don't know, in the middle of moving or stuck on a long train ride back into the city after a weekend in the country, then you're in luck! Pay TV subscribers can log on to ABC.com and stream the show from there.
ABC App
ABC also comes in app form, so while you, dutiful cable television subscriber, are stuck on that interminable Amtrak, you can watch the Emmys live from your phone or tablet using the app. Neat!
On-Demand
You can also watch the show through On-Demand on the Monday after the show actually airs. Sure, you'll be a day late and you'll have to keep your ears and eyes closed to all post-awards-show-fashion-judging that you might encounter out in the world or on the internet, but at least this way you'll be able to watch on your own time, on your own terms. Which is what TV is really all about in this day and age.