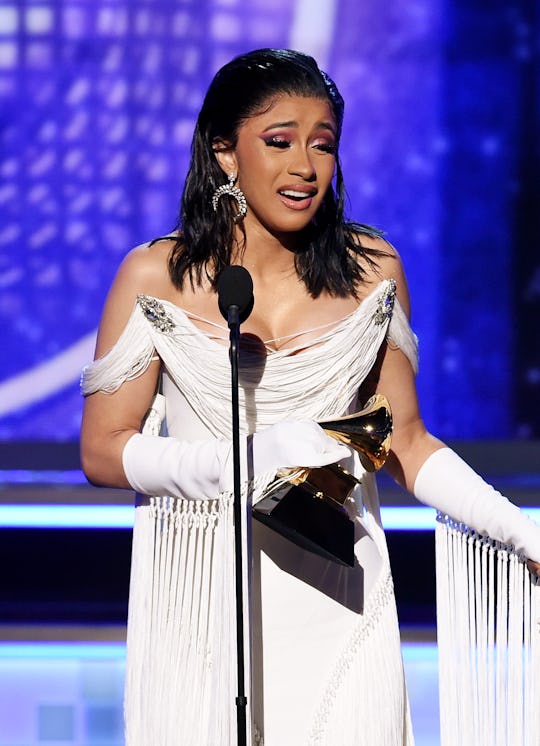 Kevin Winter/Getty Images Entertainment/Getty Images
Here's How Cardi B Made History At The 2019 Grammys
Last night, all eyes were on the music industry as the 61st annual Grammy Awards nominees took center stage. From Brandie Carlie's melodic crooning to Post Malone's gold grill, the Grammys did not disappoint. Of course, there were the some noticeable snubs and obviously many deserved wins, but there's one artist who truly stood out. In fact, how Cardi B made history at the 2019 Grammys is paving the way for a new generation of female artists.
The "Bodak Yellow" star became the first solo woman to win Rap Album of the Year, according to Variety. Only one other artist who came close to this honor was Lauryn Hill, who won best album in 1997 as a member of Fugees, which also included Wyclef and Pras Michel, according to Variety.
Other nominees for the Best Rap Album included Nipsey Hussle, Pusha T, Travis Scott, and the late Mac Miller, according to Billboard. And while many speculated that Miller would be honored with the award in memorium, it was Cardi who took home the win.
Cardi B, who's probably as famous for her personal life as she is for her professional career, accepted the award while fighting back tears, and thanked her young daughter for being the source of her motivation.
"I want to thank my daughter. I'm not just saying thank you because she's my daughter. It's because, you know, when I found out I was pregnant, my album was not complete, like three songs that I was for sure having," Cardi B said in her acceptance speech, as HuffPost reported.
Last year, she saw the birth of her first child, Kulture, whom she had with fellow rapper and husband, Offset, according to E! News. Though they're relationship has gone through tough times recently, she also thanked him for his support throughout the year as he joined her onstage during her acceptance, according to The Hollywood Reporter.
And she didn't stop with her win of Best Rap Album of the Year; Cardi B. scored with nominations in Album of the Year for Invasion of Privacy, Record of the Year for "I Like It," Best Rap Performance for "Be Careful," and Pop Duo Group Performance for "Girls Like You," according Variety. "Bodak Yellow" was the first single from Cardi B., and ultimately launched her career into the likes of which many have never seen. The song garnered Cardi's first two Grammy nominations, according to the Recording Academy.
And in true Cardi B. fashion, she topped off the night with a crowd rousing performance of "Money," as she donned and oversized black peacock tail and sang on top of a glittery piano, according to ELLE.
It was a huge night for rap overall with Childish Gambino winning Song and Record of the Year for "This is America," becoming the first rap song to ever win in either categories, according to CNN. The artist was not in attendance to accept the award and reportedly turned down an invite to perform at the event, as NPR reported.
Despite her groundbreaking win, fans can always expect to see Cardi's authentic self. And maybe this is why she's the perfect role model for others striving to make a name for themselves, no matter their career path.