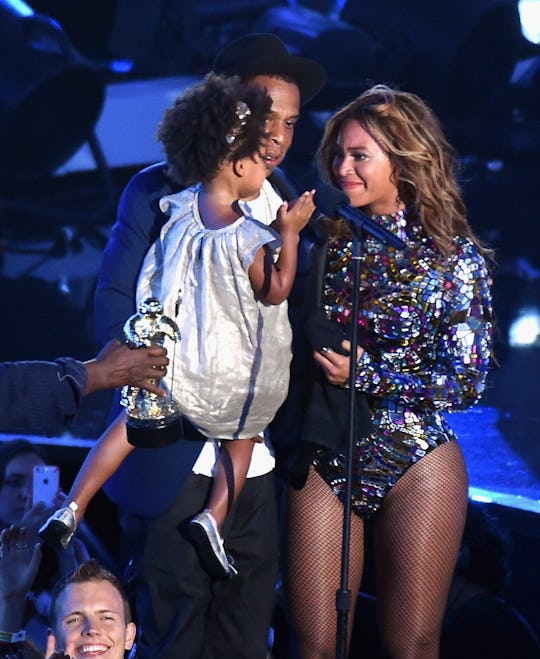 Michael Buckner/Getty Images Entertainment/Getty Images
Beyoncé's Twins Reportedly Have A Common Newborn Condition
Eight days after their birth, Beyoncé and JAY-Z's babies are still reportedly being kept in the hospital due to a "minor issue." Sources claimed to TMZ on Tuesday that the twins are currently "under the lights" — a routine treatment for jaundice. So how common is jaundice in newborns? If Beyoncé's twins do in fact have the condition, it's not particularly serious or concerning — in fact, it affects more than half of babies.
"Infant jaundice is a yellow discoloration in a newborn baby's skin and eyes," the Mayo Clinic explains. This tint happens when the baby's blood contains too much bilirubin, which is "a yellow-colored pigment of red blood cells." According to The March of Dimes, infant jaundice is very common, affecting about 60 percent of babies; These rates are even higher when they're born prematurely.
In premature babies, the most frequent form of jaundice occurs when the liver can't properly process the aforementioned bilirubin. Thus, the yellow pigment spreads through out the body, adding an unsettling tint. Here's where the "lights" come in: As a form of treatment, babies are placed under bright lights that help "break down the bilirubin into a substance that the body can excrete more easily," Healthline explains. After about a week of this so-called "phototherapy," the liver is then ready to process the bilirubin on its own, without extra assistance.
More extreme cases of jaundice can require blood transfusions. If untreated, high bilirubin levels can lead to "permanent hearing damage ... permanent brain damage, seizures, and in rare instances, death," noted Carey Chronis, a pediatrician and host of public broadcasting's Dr. Carey's Baby Care, in a comment to Romper. Erring on the side of caution and using phototherapy for as long as it takes is definitely the best bet here; The long-lasting implications of untreated jaundice are truly not work the risk.
Reports have been circulating that Beyoncé's twins were born prematurely, as twins often are. So, their being kept in the hospital and possibly treated for jaundice is nothing to worry about too much. The family has been very quiet about the newest additions, and neither JAY-Z nor Beyoncé have released any official statement. The names and sexes of Bey and Jay's babies are still unknown, too. The only real confirmation of the twins' arrival thus far has been a tweet from Beyoncé's father which unknowingly revealed: "They're here!" (Romper previously reached out to the singer's rep for comment but has not yet heard back.)
For now, it seems that the Knowles-Carter crew is focusing on the health of their babies before they start to worry about sharing official updates with the media. The good news is that, if the babies have jaundice, the family truly isn't alone. The twins may need a bit more time to get healthy, but they'll be ready for their big debut in no time.