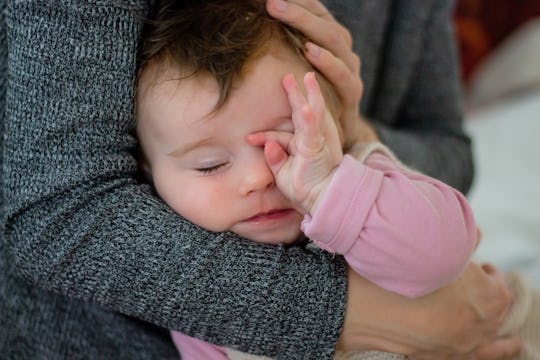 Shutterstock
How Daylight Saving Time Will Affect Your Baby's Sleep
Fall has all the makings of the perfect season: boots, pumpkins, holidays, scarves, and bonfires. But there is only one flaw that comes with fall: daylight saving time (DST). Not only does DST mean you'll be walking out of work into darkness, it means a temporary adjustment in sleep habits. Having lived through time changes for so long, you know what it feels like for you, but how daylight saving time will affect your baby's sleep is another story. But the good news is, all your hard bedtime work won't be ruined forever.
It might feel frustrating when you think about how much effort has gone into getting your baby on a solid sleeping routine, only to have it all thrown out the window when you set your clocks back. The truth is, there will be an adjustment period for your baby's sleep. But the good news is, it's only temporary.
"He may be grumpy for awhile, but the more you stick to your routines, the faster he'll adjust to the time change," explained What to Expect.
So when bedtime and naps become a struggle, remind yourself that this too shall pass. Consider these five ways your baby's sleep with change with DST as a guide for making it through what may be a very long week.
This article was originally published on