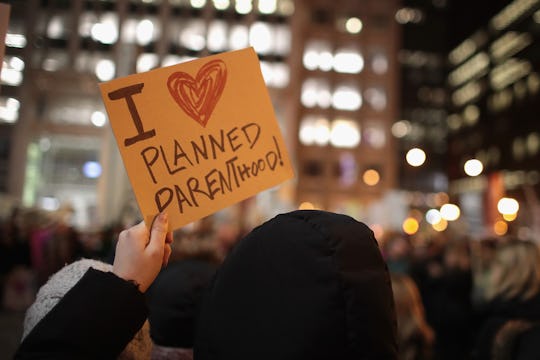 Scott Olson/Getty Images News/Getty Images
Defunding Planned Parenthood Could Affect Infant Deaths
Planned Parenthood may have dodged a defunding bullet when the American Health Care Act was shut down last week, but according to White House Press Secretary Sean Spicer, the organization isn't quite in the clear yet — President Trump will reportedly keep looking at "other opportunities" to defund the family planning organization. There have been plenty of in-depth looks at how freezing its federal funding would affect women and mothers, but would defunding Planned Parenthood affect infant mortality rates, too?
Unfortunately, it probably would — for several reasons. First of all, Planned Parenthood provides women in some areas with programs intended to reduce infant mortality rates, according to the Associated Press. For instance, Planned Parenthood runs the Healthy Moms, Healthy Babies program in Ohio, as well as the B'More for Healthy Babies program in Maryland. The organization also supports the text4baby campaign that gives moms across the United States access to critical information throughout their pregnancies and their babies' first year of life in an effort to decrease infant mortality rates.
Almost more importantly, Planned Parenthood provides Americans across the country with family planning, contraception, and abortion services. That's important, because when it comes to reducing infant mortality, the Centers for Disease Control and Prevention recommends reducing the number of unintended pregnancies and allowing for enough time between pregnancies. Planned Parenthood helps the 2.5 million people it sees each year do just that, with 80 percent of Planned Parenthood patients receiving services to prevent unintended pregnancies.
That matters because, according to research published in the Journal of Biosocial Science, children born within 18 months of their older siblings are more than twice as likely to die than those born 36 months or more after their sibling. Women need to be able to access contraception and affordable family planning services, and they need to be able to end unintended pregnancies, or else the rate of infant mortality is very likely to increase.
That's a link that researchers have already noticed in individual states. As Carol F. Roye, a professor at PACE University, wrote for The Hill in 2015:
My analysis of the data on infant mortality in the U.S. comparing poor women's access to birth control in each state and infant mortality rates found that a state's failure to pay for comprehensive contraceptive services for poor women through the Medicaid program is a statistically significant predictor of a higher infant mortality rate in that state.
Planned Parenthood provides health care, outreach, and information to more than 5 million Americans a year, and for many women in low-income areas, it's the only source around for accessible family planning services. In the last decade, infant mortality rates have dropped in the United States — but if Planned Parenthood loses its funding, the United States could stop making progress in that incredibly important department.