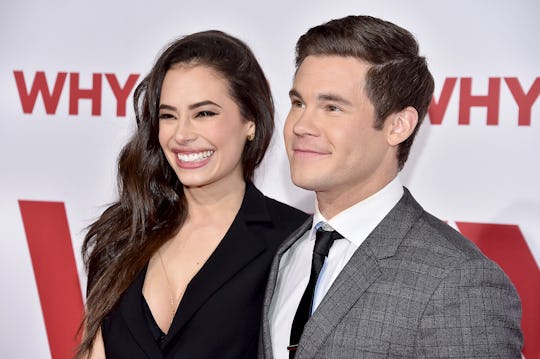 Mike Windle/Getty Images Entertainment/Getty Images
Adam Devine & Chloe Bridges Are Too Cute For Words
The 2017 MTV Movie & TV Awards are almost here and this year the ceremony will be hosted by Adam Devine. The hilarious actor will surely bring his great humor and hijinks to the show, but he'll probably also bring something, or rather someone, else as well. His girlfriend, Pretty Little Liars actress Chloe Bridges, will likely be in attendance, cheering him on as he tackles his hosting gig. Many may not be aware the two actors have been dating for years, so you may be wondering how did Adam Devine and Chloe Bridges meet?
The pair reportedly met while working together on the 2015 horror film The Final Girls. News first broke of their relationship in February 2015 and they've reportedly been together ever since. Though they kept their relationship private in the beginning, as most celebs tend to do, they're now very public with their blossoming romance. They've attended multiple premieres of each other's movies together, walking the red carpet hand-in-hand.
They've also been spotted at Disneyland and attending a Sam Smith's concert with friends. In fact, recently, the duo sat court side at an L.A. Clippers game together, unafraid to show some PDA. It's clear these two are head over heels for each other and there's apparently a reason why their relationship works so well.
Devine told People magazine that when it comes to fighting with his girlfriend, he has a surefire way to get himself out of the "doghouse," so to speak. "I'm still a child to where I think that, like, attacking her with smooches is the best way to do it," he said. "You know, I haven't really done anything that'll get me in trouble, so usually my aggressive smooch-attack will get me out of most trouble."
I mean, how adorable is that? These two are almost too cute for words and it would be surprising if Bridges does come out to the MTV Movie & TV Awards to support her man, as well as to just have fun.
MTV's annual awards ceremony is always known to be a night filled with hilarious, memorable moments that'll keep people talking for weeks to come. Devine may have big shoes to fill after Dwayne "The Rock" Johnson and Kevin Hart hosted last year, but there's no doubt he'll kill it.
This awards show will definitely be one you don't want to miss. Make sure to tune into the 2017 MTV Movie & TV Awards on Sunday, May 7 starting at 8 p.m. ET on MTV.