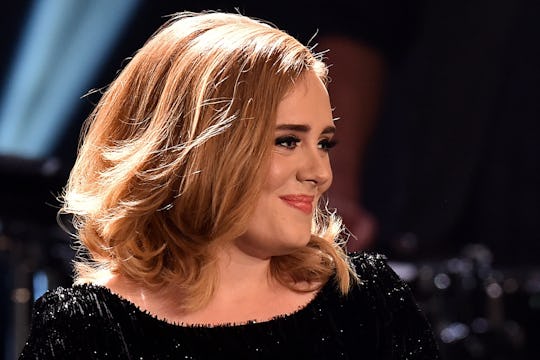 How Did Adele Meet Her Boyfriend Simon Konecki, The Father Of Her Child? Here's What We Know
It's likely that anyone who listened to Adele's 2011 album 21 hoped she'd get a love story with a happy ending. That same year, Adele started dating Simon Konecki, and their story is beautiful. Adele and Konecki already have one child together, 3-year-old Angelo James Konecki. And these cold facts are really the bulk of what we know about Adele's relationship and child, both of which she's done a better-than-decent job of keeping hidden from public view.
Not much is known about how Adele and Konecki actually met. People reports that they probably connected for the first time in the U.K. in the summer of 2011. Konecki may not be a global music superstar, but he is seriously successful. According to a bio published by the International Green Awards, Konecki started working as a foreign exchange broker at only 17 years old before "running teams of senior brokers at Lehman Brothers" seven years later.
Following an instinct to use his skills to create positive change, Konecki worked with Lucas White to create Life Water (a more environmentally-friendly alternative to traditional bottled water suppliers) and the charity drop4drop. According to the Life Water website, "Every bottle of Life Water you enjoy funds the delivery of at least 1000 litres of clean drinking water to a community in need." Life Water is both 100% carbon neutral and recyclable, they source organically, and they focus on local production and distribution to cut down on their environmental impact. Drop4drop works to ensure that communities in the developing world have access to clean water, empowering locals to build and maintain the infrastructure. They primarily serve India and Africa, but they also support emergency relief efforts around the world.
Konecki is intelligent and philanthropically-minded, but he's also a huge supporter of Adele. Entertainment Tonight reports that Adele shared why Konecki means so much to her in an interview with 60 Minutes Australia:
Being in such an amazing relationship with someone that's so there for me and so loyal and is really part of my core now, that's what made me write about everything I've ever done, because I've got his love. I know that sounds a bit like I'm trying to write a Hollywood movie, but it's only because of him and because of our kid and stuff that I'm alright.
Adele's relationship with Konecki changed her own narrative. Vogue reports that during the December NBC special, Adele Live in New York City, Adele expressed her gratitude for Konecki while getting ready to sing "Someone Like You":
I don't sing this from the same place anymore. I sing it from an amazing place because of my man who is here tonight - and I love you - and this is the first show that he's ever seen me do!
Finally, we can listen to Adele and cry happy tears.
Image: Sascha Steinbach/Getty Images