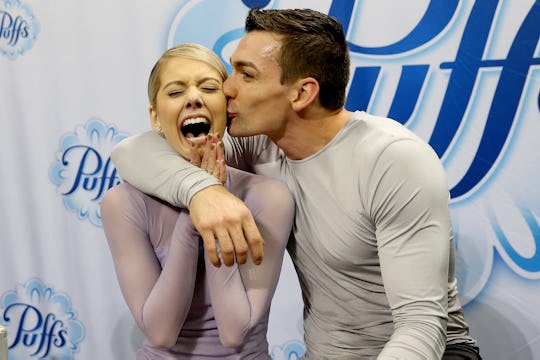 Matthew Stockman/Getty Images Sport/Getty Images
2018 Winter Olympics: Alexa & Chris Knierim's How-They-Met Story Is Super Sweet
One of the cutest couples in figure skating is heading into the Winter Olympics and the story of how Alexa and Chris Knierim met is almost as adorable as they are. According to Cosmopolitan, the couple actually owes Chris' mother a "thank you". After all, she's the reason they first got together.
The couple was first introduced by their coach, Dalilah Sappenfield, according to People, but it seems that Chris' mom first brought up the idea of skating together. In an interview with Cosmopolitan, Alexa said that Chris' mother wanted her to skate with him, but she wasn't immediately into the idea since she had committed to her first pairs partnership with another skater. Alexa did tell the magazine, though, "I will admit I thought he was attractive." NBC Olympics reported that the couple began skating together in 2012. Alex and Chris actually competed against each other before they decided to team up together in 2012 when Alexa moved to Colorado for "a coaching change," the couple shared on their website.
After that, the two love birds, Alexa, 26, and Chris, 30, started dating within a month of meeting, as reported by People and they were engaged by 2014. Then, in the summer of 2016, the couple tied the knot at The Lodge at Flying Horse, in Colorado Springs, according to the Ice Network. Other skaters in attendance included Ashley Wagner, Ryan Bradley, Adam Rippon, Madison Chock and Evan Bates, Max Aaron, Drew Meekins, Madeline Aaron and Max Settlage, as the Ice Network noted.
Their coach, Dalilah Sappenfield, actually officiated the ceremony, according NBC Olympics. And at the reception of their wedding, Alexa and Chris reportedly carried out a dance choreographed to the song "Unchained Melody." After the wedding, in an email to the Ice Network, Alexa said she found her dream man, writing:
This was a dream come true on so many levels. Every little girl dreams of three things: being a princess, finding a prince and having a fairytale wedding. Well, I found my prince in Chris -- he's always made me feel safe and loved and respected. He is as gentle as he is strong, and he truly is my perfect partner -- both on and off the ice.
Recently, Alexa told People that the couple's romance off the ice helps with their on-ice performance. She explained:
We just know everything about each other, and I think it helps in the day-to-day when we go to practice and when we compete. We support each other and we kind of know what the other one needs in that moment, and I think that's what pushes us forward to be the great team that we are.
No wonder the two have such great chemistry on the ice, right?
Many athletes have to manage long-distance relationships because of all the traveling. Fortunately for these two, they are able to be together for each of their jobs, which proves to be beneficial to their bond as Chris told Cosmopolitan:
We get to travel together, we get to skate together, compete together, and live our dreams together, which is a unique thing. It's not like I have to go to some country alone and then come home and tell Alexa all about it. She's there to experience it with me.
Clearly, this couple is a great example for relationship goals, even though Alexa told Cosmopolitan that they're "boring". Some couples could use a little boring in their lives, though. When you're a world famous ice-skating duo, a little down time sounds necessary.
Currently, the couple has two cats and two dogs, but children aren't too far off in the future, as reported by NBC Olympics. According to Cosmopolitan, Alexa and Chris hope to have kids at some point and they want two or three children. How cute will their babies be?! Maybe they'll come out wearing itty bitty ice skates.
Check out Romper's new video series, Bearing The Motherload, where disagreeing parents from different sides of an issue sit down with a mediator and talk about how to support (and not judge) each other's parenting perspectives. New episodes air Mondays on Facebook.