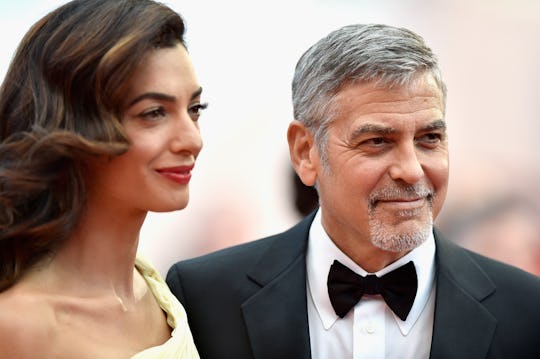 Pascal Le Segretain/Getty Images Entertainment/Getty Images
Amal & George Clooney's Simple & Sweet Love Story
Amal and George Clooney have all of the makings of a power couple — and just recently, the world found out that they're expecting twins. (If you didn't already know, having twins is like the thing to do if you're a power couple. Exhibit A: Brangelina. Exhibit B: Beyoncé and Jay Z. Need I go on?) Now that George and Amal are dominating headlines again, though, some might need a refresher on the relationship. Considering their different backgrounds, a few people are probably wondering: How did Amal and George Clooney meet in the first place?
As it turns out, Amal and George first met in Lake Como, Italy, in 2013. "She was a friend of a friend who came to visit and then I chased her for many months, calling and writing, those kinds of things," George said during an appearance on the Late Show with David Letterman, according to Popsugar.
"I knew when I met her that she was so extraordinary and special. And then I wondered if I'd ever get a chance to date her," George told Access Hollywood in 2015. "Then, we became friends for a while before and then luckily, she said yes."
Apparently, it wasn't long before George knew he wanted to spend the rest of his life with Amal — according to Popsugar, it was only six months into their relationship that George decided to propose. (Seriously, their love story is all sorts of Disney-level cute.)
"From the minute we met, we just sort of felt like we were going to be together," George told Ellen Degeneres last year. He recounted his proposal to Amal, explaining:
We didn't talk about it, you know, it wasn't like, "Oh, maybe we should get married," or anything. I plotted the whole thing out. I had the ring hidden behind her. I had music playing, my Aunt Rosemary's gonna sing "Why Shouldn't I." Everything was planned out ... it was like 25 minutes. Finally I literally said, "Look, I hope the answer's yes, but I need an answer 'cause I'm 52 and I could throw out my hip pretty soon." And she said "Oh, yes," and it worked out really well.
The rest, as they say, is history, and the couple now have a baby boy and a baby girl on the way, according to Self. Can everyone else's fairytale romances begin on a lake in Italy, please? (Or, hey, just mine. I'd be okay with that, too.)