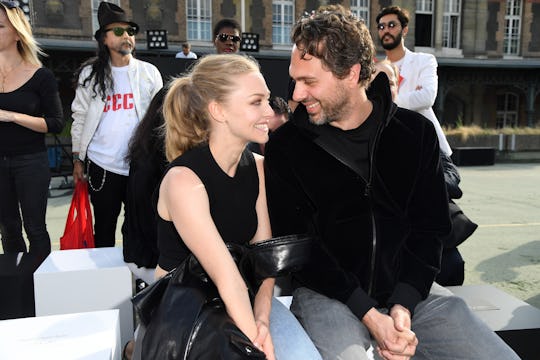 Pascal Le Segretain/Getty Images Entertainment/Getty Images
How Did Amanda Seyfried & Thomas Sadoski Meet? They've Worked Together Before
Cue the wedding bells! Actress Amanda Seyfried and costar Thomas Sadoski are engaged, according to People. A representative for Seyfried, who was spotted in New York earlier this month wearing a band on her left ring finger, officially confirmed the couple's rumored engagement. But after having dated for less than a year, fans can't help but wonder about their relationship — particularly how Seyfried and Sadoski met in the first place.
The couple first met in early 2015 when they acted opposite each other in a drama titled The Way We Get By. The play depicted the morning after after a one-night stand. Sadoski had been a "veteran stage actor," according to a New York Times critic, while Seyfried was still "new to theater." The critic went on to note their undeniable chemistry on stage.
... And if she (Seyfried) and Mr. Sadoski tend to talk at distractingly different decibel levels, there's no denying the genuine chemistry that flickers between them, and occasionally flares into something dangerously irresistible.
There was no rumored relationship between the actors at the time. Seyfried was dating actor Justin Long at the time; They had dated for two years and split up in September 2015. Sadoski was also taken — he was married to casting director Kimberly Hope. The couple divorced in October 2015 after being married for eight years, according to People.
Seyfried, 30, and Sadoski, 40, reconnected after their respective breakups in 2016 to film The Last Word. Seyfried plays a lead role in the movie, which is in post-production right now. Sadoski's role has not yet been identified, but the couple has been arriving on set together since June. Reports that the couple was dating began to circulate in February.
Since it had only been a few months since they started dating, most people didn't think much of it when photographers initially spotted a band on Seyfried's ring finger while she was out walking her dog in September, according to Us Weekly. But now, reps have confirmed it — Seyfried is a bride-to-be!
This will be Seyfried's first marriage and is her first engagement. I'll be waiting to see wedding pictures hit the stands — because we all know she's going to look so gorgeous as a bride. It'll definitely be a big change from her most well-known look as Karen Smith:
Clearly, something is incredibly special about Seyfried and Sadoski's relationship — here's hoping that their onstage chemistry and pairings continue as well. Congratulations to the happy couple!