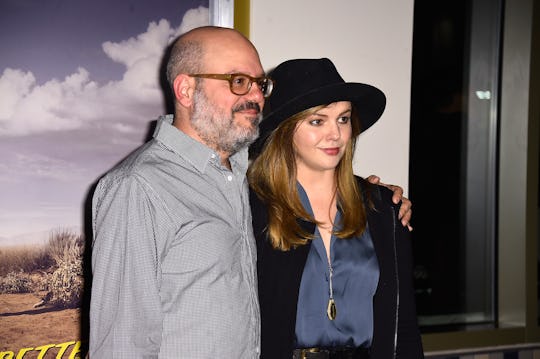 Frazer Harrison/Getty Images Entertainment/Getty Images
How Did Amber Tamblyn & David Cross Meet? SkyMall Brought Them Together
General Hospital and Sisterhood of the Traveling Pants star Amber Tamblyn revealed to the world on Wednesday that she and husband David Cross are expecting their first child — a baby girl — in a political piece written for Glamour. It's a huge milestone for the couple, and comes four years after Tamblyn married the Arrested Development actor. Now that they're moving into this new stage of their life, let's rewind and take a look at their beginnings — in other words, how did Amber Tamblyn and David Cross meet all those years ago?
As it turns out, they have a totally perfect meet-cute story. According to The Huffington Post, the two took the stage at a comedy show in New York in 2012 and shared how they'd first met with the crowd. Rather than swiping right on each other or meeting through mutual Hollywood friends, Cross and Tamblyn actually met on an airplane.
Although they'd seen each other out and about in Los Angeles and at award shows (you know, just some casual networking), they didn't actually link up until they were both on the same connecting flight from Houston to Louisiana. Cross said he felt some "aggressive staring" coming from Tamblyn's direction, so he switched seats to sit next to her.
"He was in the seat next to me and I was like, 'Oh my God, that's David Cross!'" Tamblyn recounted to the New York comedy crowd. As an Arrested Development fan, she was hooked. They made fun of the SkyMall catalogue together, and Cross said the fact that they'd be together following that was "so obvious."
The rest, after that, was quirkily cute history. Their first kiss took place as the Spiderman TV show tune blared from a television ("Spiderman, Spiderman, does whatever a spider can..."). Tamblyn took Cross to an embarrassingly bad poetry reading. They joked with others about their 19-year age difference.
Four years after they met in 2007, the couple got engaged to one another in 2011. The following year, they had a beautiful outdoor wedding, in which their close friends and family watched them tie the knot. (On a side note, Tamblyn wore an absolutely beautiful yellow wedding dress, arrived at the ceremony via canoe, and spent the day barefoot, because, as she told Us Weekly, "There's nothing really traditional about me.")
Now, the two are expecting the first addition to their little family. Hopefully their daughter will get to enjoy their SkyMall meeting story. I know I did.