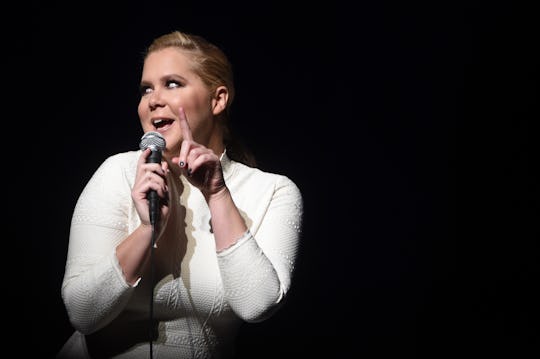 Getty Images
How Did Amy Schumer & Jennifer Lawrence Meet? Let's Investigate
It's no secret that they're now Hollywood's best BFFs, but when and how did Amy Schumer and Jennifer Lawrence meet? It's hard to tell what really goes on in celeb world, but social media and recent interviews with both stars offer a little insight. According to Vanity Fair, Schumer and Lawrence first officially hung out when JLaw crashed Schumer's annual summer vacation with the comedian's best buds from high school. In July, Schumer posted pics on Instagram of her and Lawrence riding jet skis and making goofy high-school human pyramids in the Hamptons. Schumer told Jon Stewart during an appearance on The Daily Show in August that the escapade happened sort of by chance. She said:
So we go to the Hamptons, and Jennifer and I have become friends. And I was like, 'Oh, we're going on a boat tomorrow, you should come.' It was kind of hypothetical, and she was like, 'I think I'm coming,' and I was like, 'Oh my God...I filmed a video of me telling my friends—and they're like nurses and teachers—that Jennifer Lawrence is coming on a boat with us tomorrow.
Schumer also called Lawrence, "the coolest chick in the world."
And so it goes. Earlier this summer, Amy Schumer posted a video of Jennifer Lawrence at Comic Con. So somewhere in between, the two must have met and melted each others' hearts.
Since then, they've apparently become besties.
Here They Are Dancing At A Billy Joel Concert
Here They Are Walking A Dog
Here They Are Hanging With Aziz On Turkey Day
They also have a great sense of humor about how much the world loves their friendship. The duo has joked that they plan on wearing the same dress to the Golden Globes ceremony this year, totally ruining any rumors of female celeb beef that gossip mags normally rely on. They're competing against each other for an award, but when it comes to fashion, they're going to present a united front. Lawrence told E! that. "We're going to try to figure out to wear the exact same thing. That's my mission. I really want us to wear the same thing."
Whatever they decide on, it's likely to be epic.
Image: Jamie McCarthy/Getty Images; Giphy; AmySchumer/Instgram (3)