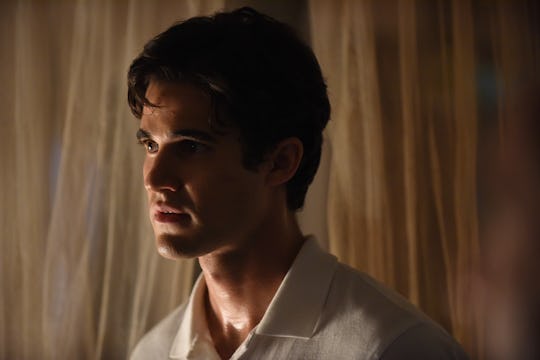 Ray Mickshaw/FX
'The Assassination Of Gianni Versace' Will Bring Andrew Cunanan's Story To A Close
The Assassination of Gianni Versace has told every part of Andrew Cunanan's story except for the end. It took viewers through each of his crimes before turning back the clock to what came before, exploring what kind of childhood could form a person like Cunanan. Now "Alone" brings the show to its conclusion by revealing how his life ended. But how did Andrew Cunanan die?
Eight days after killing Gianni Versace, Cunanan used the same gun to shoot himself in the head. He had been hiding out for just over a week in an empty houseboat in Miami, which went against his usual M.O.; previously, he'd fled the state after a murder and the police had no expectation that this would be any different. But he'd stuck around instead and was eventually discovered, though it was too late to bring him to justice.
Fernando Carreira was the caretaker of the houseboat where Cunanan had holed up. On July 23, Carreira and his wife went to perform a routine check on the property, but they immediately saw that something was off. According to Maureen Orth's book Vulgar Favors, on which Versace is based, Carreira noticed that the lock was broken and the interior was disturbed. The always-open curtains had been closed, the cushions pulled off the couch, and someone's sandals left behind. None of it was typical.
Then Carreira heard a shot from the second floor.
He left immediately and called his son, who alerted police. Detective Gus Sanchez told Orth that they had reason to believe Cunanan was hiding on a boat in the area, so they very quickly assumed that it was him inside the houseboat. But despite the sound of the shot, they didn't know yet if he was alive or dead. Cops surrounded the boat and tried to communicate with whoever was inside, but got no response.
The stand-off lasted for hours, during which pepper and CS gas were shot into the boat. Finally, the Metro-Dade Special Response Team entered the premises and performed a search, which was when they found Andrew Cunanan's body in the second floor bedroom. According to a police report quoted in Vulgar Favors, "The subject was cold to the touch and had no pulse. The subject appeared to have been deceased for hours."
Cunanan had shot himself in the mouth using the gun he had originally stolen from Jeff Trail, his first victim; Cunanan had also used it in the murders of David Madson, William Reese, and Versace. In a 2018 piece for Vanity Fair revisiting the topic that she'd written about so extensively decades prior, Orth noted that "chillingly, the bullet that Cunanan put through his own skull traveled exactly the same trajectory as the bullet he put through Versace's brain."
The gun was one piece of evidence linking Cunanan to his crimes, as Sergeant George Navarro told Orth that the number of bullets missing from the gun magazine matched the number used by Cunanan. "We can account for every matching round," Navarro said.
Cunanan's death brought a measure of closure to the families of his victims. In Vulgar Favors, Trail's sister Lisa Stravinskas said, "What we really wanted was for the killing to end, because every time a killing was linked to [Cunanan], it was like Jeff had been killed all over again, and the nightmares and sleepless nights would start again."
The Assassination of Gianni Versace caught up with Andrew Cunanan during every key moment in his life, from his fragile victories to the intense lows that followed them. It has painted a clear picture of what led him to do what he did, and in "Alone" it will try to imagine how he might have felt in his final moments.
Check out Romper's new video series, Romper's Doula Diaries:
Watch full episodes of Romper's Doula Diaries on Facebook Watch.