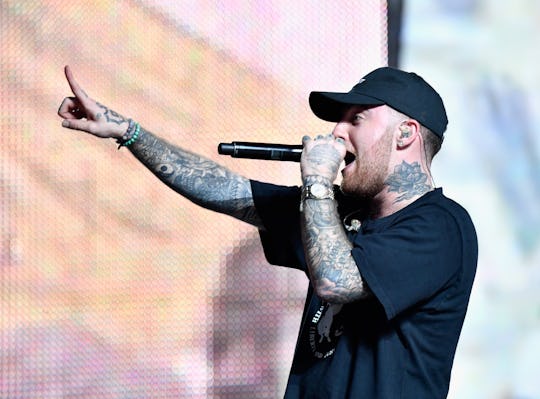 Frazer Harrison/Getty Images Entertainment/Getty Images
Ariana Grande & Mac Miller Perform At Manchester Concert
On Sunday, at the One Love Manchester benefit concert, Mac Miller and Ariana Grande took the stage to sing "The Way" together, and they put on a spectacular show. The two also happen to be dating, and their chemistry was palpable on stage. But just how did Ariana Grande and Mac Miller meet in the first place?
The two singers actually first met when they collaborated on Grande's "The Way" in 2013. "If you ever interview her... she'll tell you an awesome story about, like, her label person telling her that she should work with me and her saying, 'He looks weird,'" Miller told Cambio in an interview. "But I am weird... she was correct. But she didn't know that there was a really genuine person [in there]."
Despite her initial reservations, Grande reached out to Miller when she needed a rapper to feature on "The Way." They also created a music video for the song and shared a chemistry-laden kiss in it, which quickly sparked dating rumors among fans. At the time, however, Grande was dating someone else, and they simply remained close friends.
Miller reached back out when he started gearing up to record his album The Divine Feminine and wanted to collaborate with Grande on his song "My Favorite Part," according to People. "I wrote that love song before I saw her. We're very good friends first and foremost," Miller told People last year. "We made that song and started becoming close again. It's very dope and I like how that worked out."
After that "My Favorite Part" collaboration, they took their friendship to another level. As Grande explained to Cosmopolitan in March:
I met him when I was 19. We have loved and adored and respected each other since the beginning, since before we even met, just because we were fans of each other's talent. We weren't ready at all, though, to be together. It's just timing. We both needed to experience some things, but the love has been there the whole time. There were times over the years when he would call me and hear that I was stressed or overwhelmed or not doing well, and he would call my mom. There were also times when he was really broken and sad—this was years ago—and I would come take care of him, because we love each other as best friends first and foremost.
After the bombing that took place at Grande's concert last month, Miller canceled the concerts that he had lined up that weekend to be by her side — and then joined her at the One Love Manchester benefit to spread the love. Sounds like they're the ultimate loving, supportive couple who are ready to stand together no matter what.