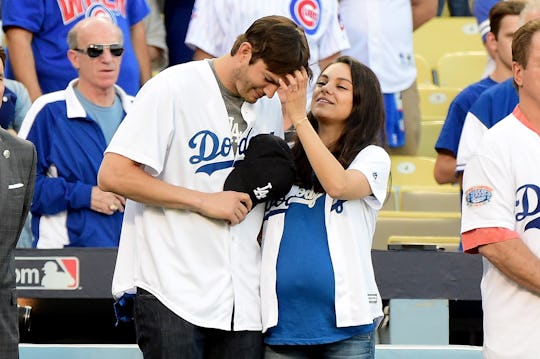 Harry How/Getty Images Entertainment/Getty Images
Mila Kunis Picked Her Son's Name Using Pregnancy Intuition
Some pregnant women just know things. For some, pregnancy intuition means knowing there's a baby on the way days or even weeks before a test comes up positive. For others, it can mean knowing how the pregnancy is progressing, or even quirks about the baby that you just can't explain. And sometimes the instinct can help settle the debate over what the kid might want to be called, as was the case with celebrity couple Ashton Kutcher and Mila Kunis. In his guest appearance on The Ellen DeGeneres Show on Monday, Kutcher admitted that a bit of pregnant-woman-magic played a role in how he and Kunis decided on the name for their second baby — and the story of how Kutcher and Kunis picked their son's name is pretty incredible, mainly because it involves a bit of pregnancy intuition — and Donald Trump.
When he appeared on Conan last year, Kutcher said that he and Kunis had already begun the great debate about what to name their potential second baby and it was taking them into interesting territory. Given his Iowa roots and deep love for the University of Iowa football team, Kutcher wanted to name their son 'Hawkeye' at first. But he explained that Kunis had quickly ended that plan. "It didn't cross the Mila threshold," said Kutcher. "It came to the threshold, but then it got knocked down."
Whether Kunis isn't a huge Iowa fan or she didn't like the M.A.S.H reference, it was back to the drawing board for the couple. And their baby boy, little Dimitri Portwood Kutcher, was born Nov. 30, according to E!.
So how did the couple get from "Hawkeye" to "Dimitri?" Kutcher told DeGeneres that Kunis made an argument that he really couldn't beat:
We're on our way to date night, and Mila turns to me and she goes, "So, I think Donald Trump is going to become the President, and I think our baby's name is Dimitri."
Please note that the couple, who are already parents to 2-year-old Wyatt, were still having date nights well into Kunis's second pregnancy. Love that. Anyway, like any normal person would have in those days, Kutcher skated right past the cute name and zeroed in on the more troublesome part of Kunis's prediction:
I was like, "Donald Trump's not going to win." And then I forgot about the name thing because I was like, "Why do you think Donald Trump is going to win?"
Simpler times. Anyway, the Two and a Half Men star told DeGeneres that he kind of put the whole thing out of his head — until it became clear that Kunis is actually kind of psychic:
I got home from work, and for some reason the name just stuck in my head. I was like, "I think Dimitri is the name of the baby." And she was like, "I know, right?"… And then Trump became president. Everything Mila says is right! She's my wife, so that's just what it is. Everything she says is right.
Those are words that anyone with a pregnant partner would do well to remember, right? And the lesson for all of us here is to never doubt a expectant mother with a serious gut feeling about her kid. And the next time Mila Kunis has a strong feeling about the presidential election, we should all listen up.