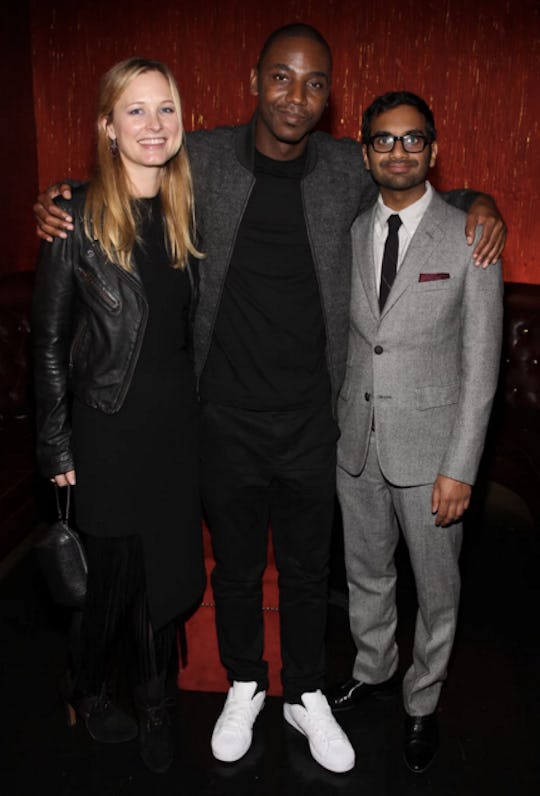 How Did Aziz Ansari & Courtney McBroom Meet? It's The Sweetest Story (Literally)
In Los Angeles, actor Aziz Ansari and girlfriend Courtney McBroom, whose catering company specializes in outrageous desserts like Nutella ice-box cakes, are known for their fabulous pool parties. But how cute will Ansari and McBroom be when they walk the Golden Globe red carpet? Nominated for a Golden Globe for his role in Master of None, Ansari will likely show up at the Jan. 10 ceremony with McBroom on his arm. But how did Aziz Ansari and Courtney McBroom meet? It's a super sweet story. Like, literally, super sweet: They met the famed Momofuku Milk Bar in New York, where McBroom worked as a baker. "Someone said, 'Aziz Ansari is here!' I didn't know who he was," McBloom told Food & Wine.
Let's just say Ansari is a foodie. Despite his predilection for top-notch baked goods, the pair waited a while to hook up. McBloom continues, "A year later we met at an event and bonded over Hokey Pokey cookies. They're made from smoked oats and a weird New Zealand toffee candy called Hokey Pokey. Milk Bar created them for Band of Outsiders fashion shows. Basically, the Hokey Pokey brought us together."
So, don't blame me the for trolling bakeries to find love...
...or at least one of those Hokey Pokey cookies (toffee and smoked oats, yes, please!)
But enough about my sweet tooth. You're wondering about that other type of sugar. Here's a pic of Ansari strolling the streets in New York with Courtney McBroom, looking like an adorbs couple, walking hand-in-hand.
The Parks And Rec alum has quite a busy schedule when not shooting his award-nominated role on Master of None. He's promoting a new book, Modern Romance, headlining the Oddball Comedy and Curiosity Festival with fellow a comedian (you may've heard of her) Amy Schumer, and working on an upcoming Netflix feature in New York City. But his his heart lies in his lady's queso.
And can you blame him? McBloom is a busy bee herself. Here she is sharing her special queso recipe, (yes, the lady does sweet and savory!) which includes a signature condiment, Swayze sauce. Already, this video has me feeling all kinds of feelings (mostly involving queso).
As for a possible season 2 of Master of None, Ansari says fans might have to wait a bit because quality work takes time. "I think I need a little time to develop a bunch of ideas," he said in an interview to Digital Spy. "We were so proud of the first season and all the stuff we were able to address … so I think we need time to kind of develop a bunch of ideas that are as rich and interesting as what we did in season one."
Luckily, Ansari fans won't have to wait long to see the funny guy with his lady on the red carpet. I wonder what the two will be wearing to the Globes.
For these two, I'm predicting casual and chic, with a side of nachos.
Images: Jonathan Leibson/Getty Images