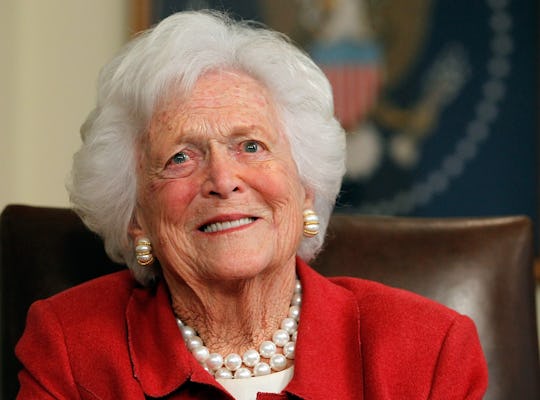 Tom Pennington/Getty Images News/Getty Images
Former First Lady Barbara Bush Has Died At 92
Former first lady Barbara Bush died at her home in Houston, Texas, at the age of 92 on Tuesday afternoon, the Bush family said in a statement, according to ABC News. Although she had been in and out of the hospital recently, many people may be wondering how exactly Barbara Bush died. Putting all politics aside, she was reportedly beloved by everyone who was close to her.
Bush had recently been hospitalized for congestive heart failure and chronic obstructive pulmonary disease, according to ABC News, and decided earlier this week not to seek any further medial care and to go home to be surrounded by loved ones and receive "comfort care." She had undergone surgery for a perforated ulcer in 2008, the news outlet reported, and had heart surgery that same year.
The Bush family's statement said, "It will not surprise those who know her that Barbara Bush has been a rock in the face of her failing health, worrying not for herself — thanks to her abiding faith — but for others." It continued, "She is surrounded by a family she adores and appreciates the many kind messages and especially the prayers she is receiving."
Her 93-year-old husband, President George H.W. Bush, has also been sick on and off throughout the past few years, as USA Today reported. In January 2017, both of them were hospitalized at the same time — her for bronchitis and him for pneumonia, the news outlet reported. She is survived by her husband, her six children, including President George W. Bush and former Florida Gov. Jeb Bush, along with 17 grandchildren.
Barbara Bush was known for her "straight talk," according to her New York Times obituary. According to Reuters, her family called her a "Silver Fox" because of her prematurely grey hair and her quick wit. The Los Angeles Times noted that the White House staff called her the "enforcer" and described her as, "unpretentious, plainspoken and down-to-earth." Fashionistas often noticed that her signature accessory was a string of very, obviously fake pearls, which is something the wives of presidents don't often wear.
She was married to the 41st POTUS for 73 years, which makes them the longest married presidential couple in history. She was born in New York City and attended Smith College, according to TIME, but she dropped out her sophomore year, though the college gave her an honorary degree while her husband was in office.
She later admitted that she was more concerned with her future husband than her studies, according to WTOP. The two had met when she was 16 years old at a party in Greenwich, Connecticut and waited until the right time to marry. "All I ever did was marry and birth well," she joked once, according to Newsweek.
They exchanged love letters while he was in training and then off fighting in World War II and married in 1945 when he was on leave. Romantic, right? She spoke often about her love for her husband, telling the Smith College alumni magazine just last month:
I am still old and still in love with the man I married 72 years ago. George Bush has given me the world. He is the best — thoughtful and loving.
She also joked about her health in the interview, according to TIME. Bush joked, "I have had great medical care and more operations than you would believe. I'm not sure God will recognize me; I have so many new body parts!" Bush really was always a joker, even as her life was coming to an end.
As first lady, she took up literacy as her cause and founded the Barbara Bush Foundation for Family Literacy in 1989. The organization encourages families all over the world to read together. Bush led an apparently happy and full life, and she'll definitely be missed by everyone who knew her. And even those who didn't.
Check out Romper's new video series, Bearing The Motherload, where disagreeing parents from different sides of an issue sit down with a mediator and talk about how to support (and not judge) each other's parenting perspectives. New episodes air Mondays on Facebook.