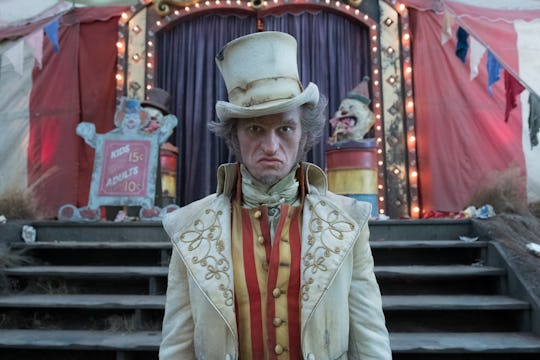 Eric Milner/Netflix
Beatrice Shares An Important Connection With Several Characters In 'ASOUE'
A Series of Unfortunate Events is returning to Netflix this month with Season 2 of a planned three-season miniseries adaptation. Season 1 took us through the first four books with Lemony Snicket narrating the tale of the three orphaned Baudelaire siblings. Periodically, we see him in flashbacks writing letters to a woman named "Beatrice," who has since died. Since this series loves setting up mystery characters, fans may be wondering: how did Beatrice die on A Series of Unfortunate Events? Book readers will know that there's a twist coming. Warning: book spoilers ahead!
Lemony's beloved Beatrice is actually Beatrice Baudelaire, the Baudelaire orphans' mother. She and Lemony grew up together and were childhood sweethearts, but, as the story goes, when he finally proposed to her, she said yes, only to change her mind later. She wrote him a 200-page book detailing why she couldn't marry him, and there's some speculation that it's because she was looking out for his own safety, due to growing tensions leading up to the V.F.D. schism. Beatrice eventually accepted a proposal from Bertrand Baudelaire, who curiously used the exact same engagement ring Lemony Snicket proposed with. And given Lemony and Beatrice's continued pen-palship, there definitely seems to be more going on here than we're let in on throughout the books.
So, since we know that the Baudelaire parents died in a house fire, leaving the children orphans, we can deduce that Beatrice died in the fire. The first season of A Series of Unfortunate Events does plant a red herring with two mystery characters credited as "Mother" and "Father" who are still very much alive. We only see tiny vignettes of them trying desperately to make their way back to their children, and for a few episodes, it seems like the Baudelaire parents are alive after all. Of course, it's a trick (because this series really is unfortunate), and they turn out to be the parents of the Quagmire triplets. By the end of Season 1, they, too, die in a house fire, which eventually leads to the Quagmire and Baudelaire children meeting at boarding school to bond over the puzzlingly similar circumstances of their parents' deaths.
The books contain a similar fake-out (or is it?) somewhere between The Reptile Room and The Grim Grotto. Lemony writes that he spots Beatrice at a masked ball hosted by the Duchess of Winnipeg and finally gets a chance to deliver her a message after 15 years. According to the companion book Lemony Snicket: The Unauthorized Autobiography, that ball was heavily implied to take place after the events of The Reptile Room, which would mean that Beatrice didn't die in the house fire at the beginning of the series.
But we know from Lemony that Beatrice does eventually die in a house fire — perhaps the blaze at the Duchess of Winnipeg's mansion. At one point, the Baudelaire children discover a dossier called The Snicket File which tells them that there was one survivor in one of the fires. They believe for a moment it might be one of their parents (presumably Beatrice), but it is later discovered that it was Quigley Quagmire, once believed to be dead, who in fact survived the fire that killed his parents.
Despite the twists and turns — and the slightly fuzzy details on which fire Beatrice actually died in — she definitely is dead and it was definitely at the hands of the V.F.D.'s villainous faction. You can see how many of those details the Netflix version will fill in when Season 2 drops on Friday, March 30.
Check out Romper's new video series, Romper's Doula Diaries:
Watch full episodes of Romper's Doula Diaries on Facebook Watch.