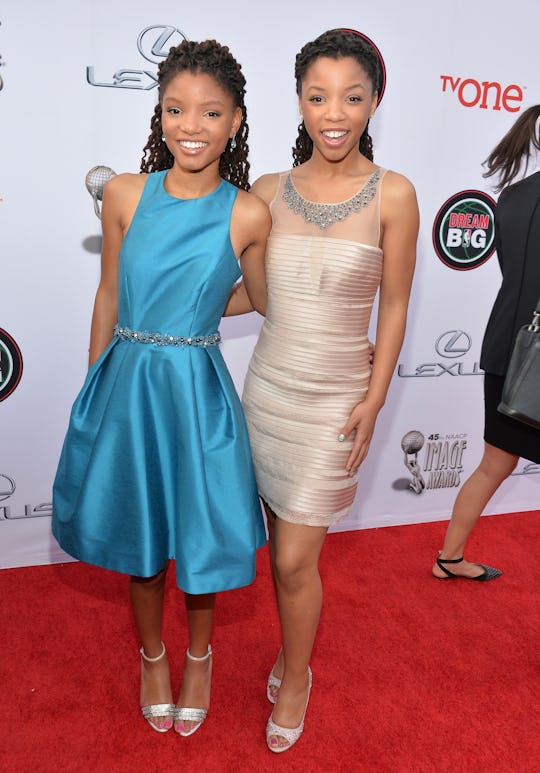 Alberto E. Rodriguez/Getty Images Entertainment/Getty Images
How Did Beyonce Meet Chloe & Halle? The Singers Have A Surprising Connection
Is there anything Beyoncé can't do? She sings and dances like a superhuman. She drops secret albums. She designs her own activewear. And now, she's walking the feminist walk by signing awesome, emerging female artists to her label, Parkwood Entertainment. Chief among these new artists are teenaged sisters Chloe and Halle Bailey, who just released the video for their first original single, "Drop," which is destined to stay in your head for a very long time. But how did Beyoncé even meet Chloe and Halle? It turns out that the three singers have an unexpected connection.
At first glance, it seems that Beyoncé might have easily discovered the young women when they made a gorgeous cover of her single, "Pretty Hurts," on their popular YouTube channel in 2013. After Beyoncé's manager brought it to her attention, the superstar posted the video on her Facebook page with the caption, "So amazingly talented!!" and it quickly garner 134,000 likes. (Now, the video has over 11 million views. Not too shabby.) The relationship between the three grew from there, with Beyonce signing the sisters to a $1 million, five-year contract.
But —plot twist!— it turns out that Chloe actually played a young version of Beyoncé's character in The Fighting Temptations, all the way back in 2003. Obviously, the two didn't share any screen time. Still, they likely crossed paths at some point. And it's a lovely twist of fate that, even though it seems they didn't keep in touch, their paths crossed again in such a life-changing way.
The sisters, known professionally as Chloe x Halle, are only 17 and 16, respectively, but they have such outsize talent that, as Chloe told Elle, Queen Bey calls them her "angelic angels." In recent months, they've been reaping the full benefits of their newfound fame by performing at South by Southwest and the White House, and getting to hug Michelle Obama.
Surely their fame will only grow now that "Drop" has, well, dropped into the world. The video has already garnered over 600,000 views since its release on April 5. And no matter what, they have a powerful advocate on their team. As Beyoncé told Elle, "I want to take all my resources and give these artists the support of the best, to nurture them and allow them to be who they really are." Who better to nurture your career than the woman whose younger self you once played, and who also happens to be one of the most successful artists of all time?