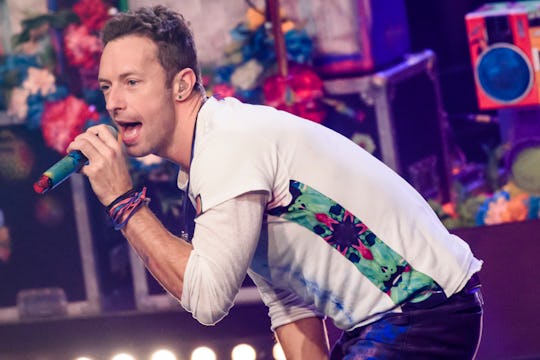 Clemens Bilan/Getty Images Entertainment
How Did Beyonce Meet Chris Martin From Coldplay? They Have A Surprising Connection
This year's Super Bowl is packed with serious star power. Entertainment Tonight reported that Beyoncé will make an appearance during Coldplay's halftime show. How did Beyoncé meet Chris Martin, Coldplay's lead singer? The answer is a bit of a surprise.
When Coldplay released its album, A Head Full of Dreams, in December, fans got the delightful surprise of background vocals by Queen Bey herself. According to MTV, the singer performed on three tracks including "Hymn for the Weekend." Martin told London's Magic Radio with Jo Parkerson that he's a huge Beyoncé fan, according to MTV:
She sings on two tracks, yeah. Three, really. But she is just wonderful, as you know, and she was so sweet, and I said, 'Is there any chance you would come and help us do some, you know, backing vocals?' That's how it started, 'cause we were trying to keep it a secret, but she just sounds so great that I think we faded it up in the mix a bit.
"Hymn for the Weekend" is a bit of a departure for the band. E! reported that Coldplay wanted to try writing a party song, but it eventually morphed into a sweeter tune before Beyoncé was asked to collaborate. It's unclear how exactly Martin connected with Beyoncé for the first time, but he did joke about how hard it is to get in touch with her. On The Late Late Show with James Corden, Martin described the epic adventure:
You get summoned to their castle, then you wait for about a week in a small room where you're just fed very minimally. And if you survive that stage - about 15 other people in the room - whoever survives that gets through to the next stage where you get to play tennis with Jay. And if you beat him twice, you get sent through to meet the rest of Destiny's Child. They check you for lice and bugs, and if they deem you clean enough, then you can meet Beyoncé behind the screen.
Martin may be joking, but it is surreal to have Beyoncé sing on Coldplay's album and then join the band at the Super Bowl (in an encore to her 2013 performance). According to Entertainment Tonight, Bruno Mars may be stepping onstage as well. Fans can catch all of the excitement when Super Bowl 50 airs Sunday, February 7 at 6:30 p.m. on CBS. The Carolina Panthers and Denver Broncos may be competing for the Vince Lombardi Trophy, but it seems as though Coldplay and Beyoncé have already won the night.