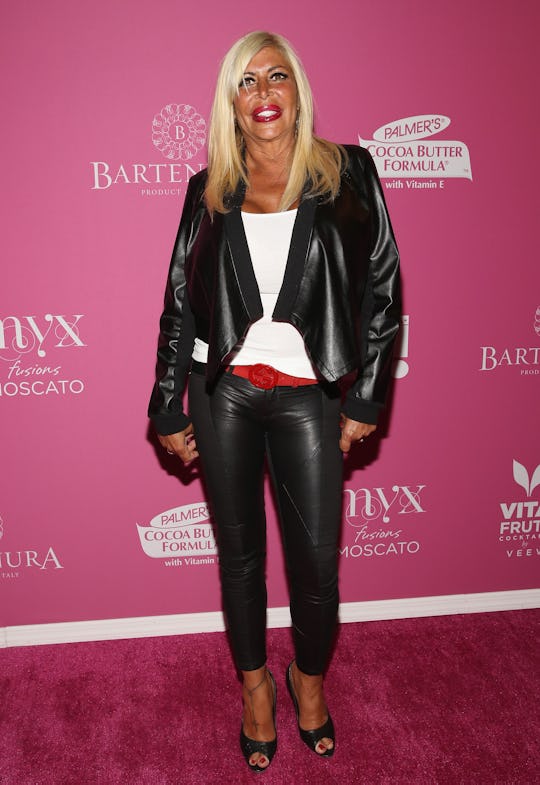 Robin Marchant/Getty Images Entertainment/Getty Images
How Did Big Ang Die? Reports Of Her Passing Have Been Ruled False
An unknown source speaking to ET on Wednesday night claimed that Mob Wives star Angela Raiola had passed away. The source claimed that Raiola, known by fans as "Big Ang", had died after a long struggle with stage four cancer, leaving behind two children and six grandchildren. A short time later, however, a source claiming to represent Raiola's social media presence dismissed the news as false.
"The news that has been reported is TOTALLY INACCURATE," the representative wrote in a statement posted to Raiola's Twitter account. "... No direct information has been given, and will not be given anytime soon." The representative added that Raiola was "still in the hospital, surrounded by her loved ones", and that she was "fighting."
"Please respect her family and their privacy at this time," the representative wrote.
According to the entertainment outlet, Raiola's throat cancer, which doctors originally discovered in March 2015, had returned in December of last year. The reality star had undergone two separate surgeries to remove lemon-sized tumors from the right and left side of her throat in March and June of that same year. In and interview with Dr. Mehmet Oz last February, Raiola said that she was able to "stay positive" by thinking about her family. "I look at my kids and my grandchildren and I know how much they need me," she said. "My daughter lives with me with her kids and her husband, so I'm very close to my grandchildren."
In addition to her two surgeries, the Mob Wives star has been battling late stage lung and brain cancer for the past 12 months, The New York Daily News reported on Wednesday. Earlier in the day, family friend and lawyer Stephen Spinelli confirmed to reporters that Raiola had been checked into the hospital, reportedly for treatment of pneumonia.