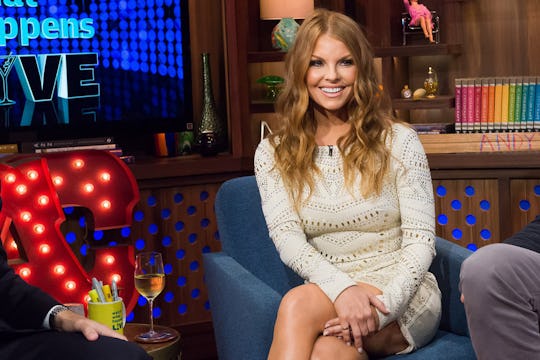 Charles Sykes/Bravo
How Did Brandi Redmond & Her Husband Meet? The 'Real Housewives' Star Has An Adorable Tale
In a new twist, many of the Housewives on The Real Housewives of Dallas, Bravo's most recent franchise in their wildly popular Real Housewives series, are actually housewives in the traditional sense. Stephanie Hollman and Brandi Redmond are two such wives. These real Housewives chose to stay at home as full-time moms when their children were born. Brandi's husband, Bryan Redmond, is a real estate developer, and a very successful one at that. The two have been together a long, long time. So, how did Real Housewives of Dallas star Brandi Redmond and her husband meet? It's actually a very cute story.
In her bio, Brandi states that she is married to her high school sweetheart, and while he is traveling for business, she shifts her focus to homemaking, charity, and shenanigans with her best friend, Stephanie Hollman. We got to see some of these shenanigans go down in the first two episodes of the series, as the two giggle, guzzle "Jesus Juice," and make various poop jokes (that don't go over too well with Charity Queen LeeAnne Locken). Also in the premiere episode, Brandi introduces us to her beautiful and brilliantly red-haired family. (I'm sorry, I just can't get over how perfect the last name "Redmond" is for this flame-haired clan).
In her confessional, Brandi describes the adorable story behind her marriage to her high school sweetheart. She and Bryan first met in the eighth grade, and started dating in high school. She was a cheerleader, and was (of course) dating the football quarterback. But then he broke up with her, and she started dating Bryan to make him jealous. And the rest is history. "And we're still together!" she sings to the camera.
The two are obviously still going strong. Brandi and Bryan have two daughters, Brooklyn and Brinkley — who are six and four respectively — making them possibly the most perfectly coordinated family in Texas. Brandi's social media is filled with love for her husband and her little girls.
Brandi captioned this cute pic, "Date night with my Boo. Love you and thank you for supporting me. You are the best." With so many Housewives getting divorced, like Yolanda Hadid and Ramona Singer, it's incredibly refreshing to see such a solid, strong partnership between these two.
I just hope they can handle the pressures of being Bravolebrities!