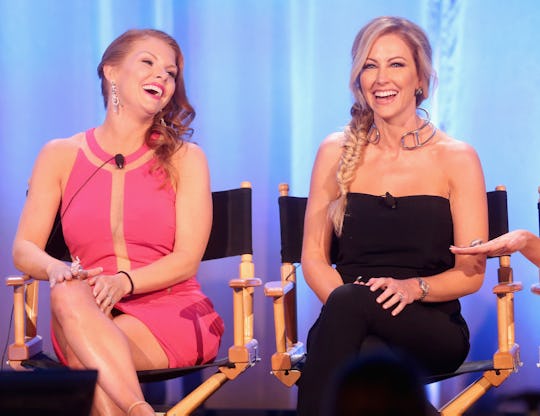 Frederick M. Brown/Getty Images Entertainment/Getty Images
How Did Brandi & Stephanie Meet On 'Real Housewives'? Their Friendship Is Real
The Real Housewives franchise has cycled through marriages, divorces, feuds, and frenemies, but somehow genuine friendships can form between the ladies, too, despite all the drama. (Of course, sometimes those same friendships are just fodder for later falling outs.) On the Real Housewives of Dallas, Brandi Redmond and Stephanie Hollman stick out for being especially tight. Both women are stay at home moms, and they're happy to spend their days together drinking Jesus juice and crafting hats covered in fake poo. Since they started off the series as pals, you may be wondering: how did Brandi Redmond and Stephanie Hollman meet?
Brandi and Stephanie are obviously super close, sharing a love for fart jokes and drunken chores, such as taking down a hornet's nest in huge fur coats; they're like Bravo's version of Ab Fab. While their slightly wild good time might not be very appealing to the other ladies, Brandi and Stephanie always have a fun when they're together. They've been friends for about seven years, and actually met through their husbands, who are also good friends. It's pretty great to watch them enjoy each other's company so much, even if the shenanigans they get up to involve so many poop jokes.
On Jenny McCarthy's SiriusXM radio show, Brandi and Stephanie explained that they never fight, with Brandi saying, "Our friendship's healthier than most marriages!" It's a sentiment she echoed on the show's most recent episode, "Making Frenemies," claiming that if Stephanie were a lesbian, they probably would be married. There's no doubt that they adore each other, and that it goes beyond hanging out. When Brandi is having problems with her husband, she takes her insecurities to Stephanie, who is nothing but supportive.
Theirs is a friendship that feels surprisingly real, from the inappropriate laughs to the shared feelings. In a show where so many women are at each other's throats so regularly, it's refreshing to see that Brandi and Stephanie have each other's backs.