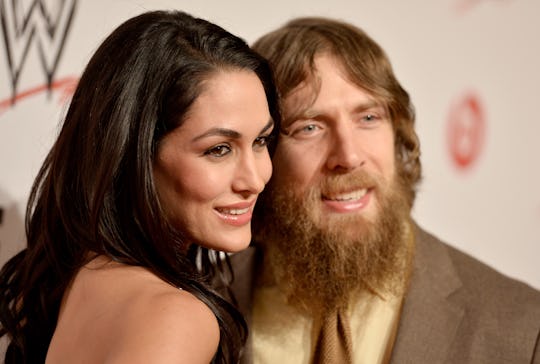 Frazer Harrison/Getty Images Entertainment/Getty Images
Brie Bella & Daniel Bryan's Unique Love Story
Last week, wrestling pros — and husband and wife duo — Brie Bella and Daniel Bryan brought home their first child, Birdie Joe Danielson, and they shared the happy news on Instagram just a few days later. Since then, Bella has been sharing a bunch of parenting posts that are both heartwarming and honest, and she and Bryan seem to be enjoying every minute of their new life with Birdie. Since all adorable baby additions deserve a throwback to a family's very beginning, here's a few details about how Brie Bella and Daniel Bryan first met.
Unsurprisingly, the couple was introduced in the world of wrestling: According to PW Mania, they were first matched up thanks to a WWE storyline. (For those who are unaware, the wrestling world likes to add stories to its matches in order to amp up viewers' investment in a fight.) According to the Sportster, this particular storyline had Bella and her twin sister, Nikki, both vying for Bryan's affection, with Bryan rejecting them both.
"It actually started as a story line and then we really hit it off," Bryan told PW Mania in 2013. "Actually it was shortly before our story line ended we kind of started dating each other. We kind of started off real slow, but now we've been together for two and half years."
Bella and Bryan got married in April 2014 in a wedding that was filmed for Bella's Total Divas reality TV show. Just a few months later, the married couple were tossed into a second WWE storyline in which Bryan was supposedly cheating on Bella, a story that Bryan called "stupid."
"Yeah, to me, it's groan-worthy," he told IGN at the time. He continued:
I don't think it added anything to the story. It was just like, "Ugh!" But, you know, they do what they do, and you just gotta roll with the punches. ... It doesn't hurt my feelings or anything, you know? It's entertainment. It's not real, so okay.
The fake storyline didn't seem to affect the couple, and in October last year, Bella announced the happy news that she was pregnant. "It has always been a dream of mine to become a mother," Brie told E! News at the time. She continued:
Now that it is finally real, it fills me up with so much happiness. I can't wait to see my husband, Bryan, be a father to our child. I am so excited for this new chapter in our lives.
With several years and multiple storylines behind them, as well as an adorable addition to their family, it seems like Bryan and Bella have another awesome chapter ahead of them.