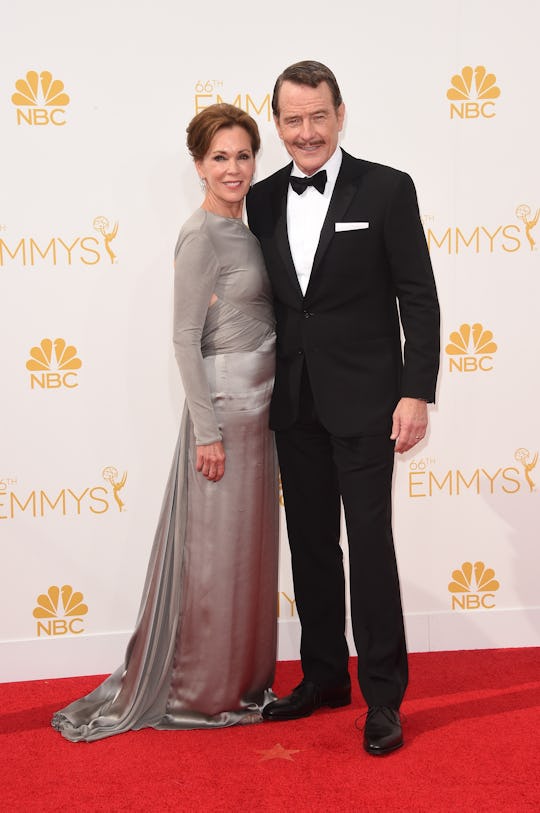 Jason Merritt/Getty Images Entertainment/Getty Images
How Did Bryan Cranston & Wife Robin Dearden Meet? Their Story Is Actually Pretty Hilarious
Bryan Cranston has been all over the media lately (if he wasn't famous enough already after Breaking Bad) for his impressive performance in the film Trumbo as lead character Dalton Trumbo, a Hollywood screenwriter who works to regain his career after being blacklisted for communist leanings in 1940s Cold War America. His performance was so spectacular, in fact, that Cranston scored his very first Oscar nomination. Cranston was also nominated for a Golden Globe for his part in Trumbo, but when he arrived with his wife and actress Robin Dearden on the red carpet this awards season, everyone forgot all that — because what an adorable couple the pair make. But how did Bryan Cranston and wife Robin Dearden meet?
When fate brought the two together for the first time, it certainly wasn't a conventional beginning to any courtship... but I suppose some might have fount it sexy. Turns out Cranston was holding Dearden hostage while they worked together on the set of the CBS series Airwolf back in 1986. (Yup.) Cranston was on site as a guest star, playing the role of a betrayed lover who hijacks a sorority reunion cruise, and — you guessed it — Dearden was one of the sorority girls. In an interview with People Dearden recalled of their first meeting,
He actually had a gun to my head ... It was 30 years ago that we met on that terrible TV show. It changed both our lives.
At the time Cranston had a girlfriend and Dearden had a boyfriend, so it wasn't a whirlwind romance, but we all know that starting out as friends works better anyway! Plus, the fact that Dearden shared Cranston's wicked sense of humor made him hard to forget. It was a year later when they happened to run into eachother again that they finally hit it off and were able to start up a long-term romance.
Hollywood doesn't always lend itself to long marriages, so it is not surpising that people are interested in this couple. The pair has been married for nearly 27 years now and have one daughter together who is also on her way to fame. Taylor Deardan, 23, actually scored an extra role as "Sad Faced Girl" in the "No Mas" episode during the 2010 season of Breaking Bad. Not to mention, Dearden was an extra in the same episode as "Emotional Woman." Let's just put it this way – acting is a family affair for these three.
Cranston was first married to Mickey Middleton from 1977 until their divorce in 1982 before his fortuitous on-set meeting with wife Dearden. It seems like the real thing for this pair who found each other a bit later in life. One thing for sure? Dearden and Cranston are totally a role-model Hollywood couple. All that remains to be seen is whether Cranston will add an Oscar to that happy list of life achievements.