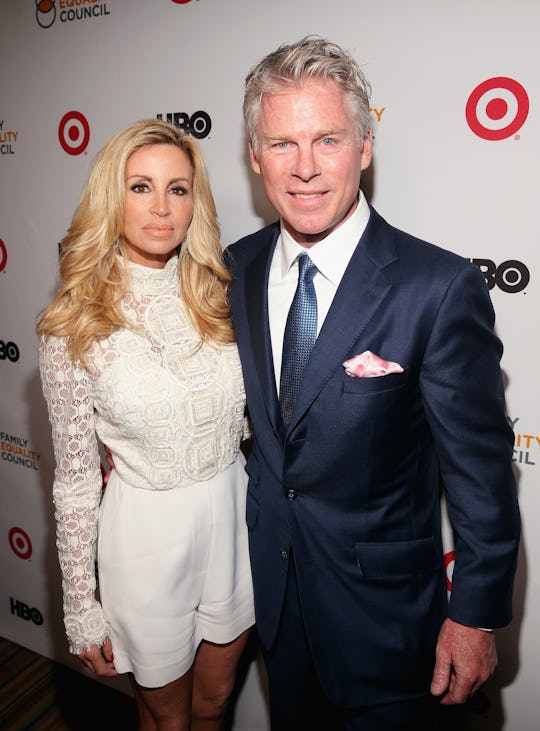 Jesse Grant/Getty Images Entertainment/Getty Images
This Is How Camille Grammer & Her Boyfriend Came To Know One Another
When Camille Grammer was first introduced on The Real Housewives of Beverly Hills she was still married to Frasier star Kelsey Grammer. But soon after Camille started appearing on the show, the couple got a divorce — and now several years later she's introducing the ladies to the new man in her life. So how did Camille Grammer and her boyfriend meet? They definitely seem to be enjoying their time together, Camille's loud friends screaming at each other across a dining table notwithstanding.
This season of The Real Housewives of Beverly Hills, Camille returns to the fold not as a full-time 'Wife but as a friend. And for the first time since her divorce she's started introducing her friends to her new boyfriend, a lawyer named David C. Meyer. David didn't seem too appalled by the women's behavior on the show (specifically by Dorit Kemsley's drunken swearing), so I have high hopes for their relationship. There is also the fact that Camille is clearly head over heels for the man — and this was the reason she was nervous about bringing him around her Real Housewives friends. But now that the two are engaged, it looks like David is just going to have to get used to it.
E! News reports that Camille and David met through mutual friends at a party, according to a source who is close to the couple. They reportedly started dating over a year ago, and it's obviously going very well. The article also reported that David quickly became a fixture at Camille's house, growing close to her and Grammer's two children, Mason, who is 15, and Jude, who is 12. And Camille has not been shy about posting pictures of herself and David all over her Instagram, proving that the couple is clearly very happy together.
People reported in October that the couple had just recently gotten engaged. The outlet's source is quoted as saying, "There's a casualness and easiness to their relationship. They're a really happy, kind couple. He really loves her for her." Aw, well who doesn't love love? Camille teased the news herself on Twitter with a post that read: "Party night with my love. We have a secret.. guess." And after the news was revealed Camille posted a photo on her Instagram of the two dressed in '70s disco outfits with a huge diamond ring on a very important finger.
Now, I don't know how likely this is, but personally I would love another televised Housewife wedding. Camille was a main cast-member on the show for the first two seasons before leaving. Since then she's appeared intermittently at events or similar occasions, but this is the first year she's appeared regularly since leaving the show. I can't say for sure, but it definitely looks like Camille is heading in the direction of being more involved in the Housewife world than she's been in years. Perhaps next year she'll return as a full-time Wife, and audiences will get a closer look at her life with her no-longer new beau.
There's little in this world that brings me more joy than a reality TV wedding, so I truly hope Camille obliges. Kyle Richards and Lisa Vanderpump can be bridesmaids, and the whole ceremony will probably take place at sunset on a clifftop overlooking an incredible view. Camille wouldn't deny us the opportunity to be a part of that beautiful ceremony now would she? I guess we'll just have to wait and see how this all shakes out and keep our fingers crossed.
Check out Romper's new video series, Romper's Doula Diaries:
Watch full episodes of Romper's Doula Diaries on Facebook Watch.