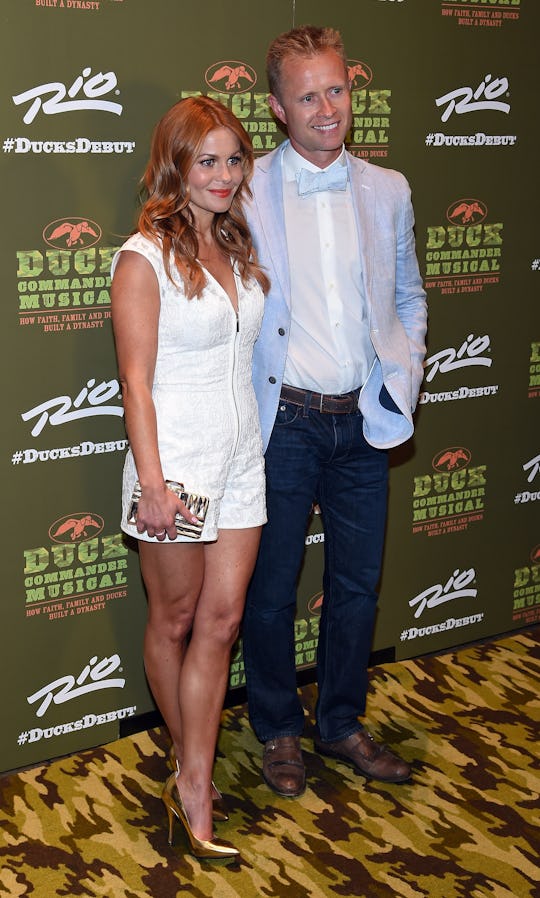 Ethan Miller/Getty Images
How Did Candice Cameron-Bure Meet Her Husband? The 'Fuller House' Star Was Set Up With Valeri Bure By A Fellow Castmate
With Fuller House premiering on Netflix in the coming days, viewers are wondering about the real-life families of our favorite Full House stars, particularly how Candice Cameron-Bure met her husband. Fuller House will star Bure playing a grieving D.J. Tanner, now Tanner-Fuller, who has recently been widowed and left to raise three children on her own — much as her dad, Danny Tanner, was a widower and single dad. Luckily, Bure's own love story is much happier.
Turns out, she has a cast member of Full House to thank. Bure told HuffPost Live how Dave Coulier, the actor who plays Uncle Joey, set them up in 1995, during the final season of Full House. Bure was attending a hockey game to root Coulier on, and the hockey-loving actor introduced Bure to two men who he characterized as "two really good Russian hockey players." The two players were Valeri Bure, her now-husband, and Valeri's brother. Bure told Coulier that she wanted to meet Valeri, the blonde one. The two immediately started to date, and they were engaged within the year.
"Dave Coulier still has a hockey stick that my husband signed for him that says, 'Thanks for Candace,'" Bure told HuffPost Live. Pretty romantic, no? And after nearly two decades of marriage, things are still looking good. Bure even captioned this Instagram photo of her and Valeri with "my love."
Valeri played in the National Hockey League (NHL) for ten seasons, and though he's no longer in the big league, it's clear that he and Bure are keeping the hockey dream alive in their family. The Bures have three kids together, and at least one of them plays hockey, as evidenced by this recent Instagram photo accompanied with a proud #hockeymom hashtag.
Bure's life hasn't been without its controversies. In 2014, the View co-host came under fire when she explained that she preferred a "submissive role" in her marriage, comments she later defended, saying,
Listen, I love that my man is a leader. I want him to lead and be the head of our family and those major decisions do fall on him. It doesn't mean I don't voice my opinion and it doesn't mean I don't have an opinion ... within my marriage we are equal in our importance.
Whatever the case, the mom of three seems to be pretty content and that's what really matters. Now that the Full House cast is seeing more of one another on the Fuller House set, perhaps Bure and Coulier can play matchmaker to the remainder of the Tanner family.