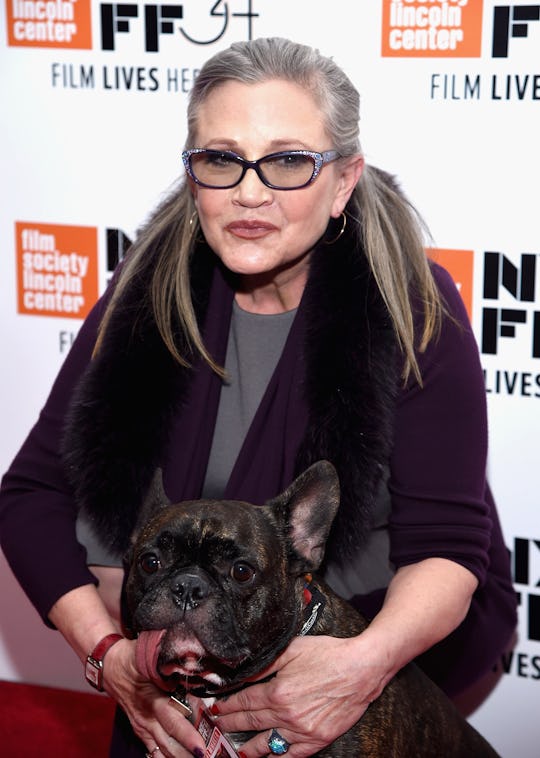 Dimitrios Kambouris/Getty Images Entertainment/Getty Images
Actress Carrie Fisher Has Died At 60
After her fans spent the Christmas holiday hoping and praying that 2016 would not claim yet another of the great talents of the entertainment industry, Star Wars actress Carrie Fisher died Tuesday morning, People magazine reported. Fisher, who is most well-known for her role as Princess Leia in the science fiction series, succumbed to a heart attack after she suffered cardiac arrest during a flight on Friday. She was 60.
Just four days after Fisher was removed from the flight from London to Los Angeles — and one day after her mother, Debbie Reynolds, tweeted she was in stable condition — Fisher's 24-year-old daughter released a statement to inform the public that she had died. "It is with a very deep sadness that Billie Lourd confirms that her beloved mother Carrie Fisher passed away at 8:55 this morning," it reads. "She was loved by the world and she will be missed profoundly. Our entire family thanks you for your thoughts and prayers."
Previous reports had indicated that Fisher was unresponsive when she was treated for the cardiac arrest, but those who loved her as Princess Leia — a role in which she debuted when she was just 19 in 1977 — had hoped that the accomplished novelist would pull through. After all, Fisher returned to the role that originally launched her to stardom in 2015's Star Wars: The Force Awakens.
Although it was a heart attack that ultimately (and tragically) killed her, Fisher had been up front with the public about her struggles with mental illness and addiction throughout much of her life. She was diagnosed with bipolar disorder at 29 and, even before that, was a user of substances like LSD, cocaine, and prescription medications. "Drugs made me feel normal," she said in 2001, according to Rolling Stone.
In a 1990 semi-autobiographical memoir called Postcards From the Edge, she detailed her experiences with addiction and rehab. In fact, she wrote four novels and eventually became an energetic and witty "script doctor" who spiced up the scripts for movies like Hook (1991), Sister Act (1992), and The Wedding Singer (1998), according to The New York Daily News.
Fisher was the daughter of Debbie Reynolds, an actress, and singer Eddie Fisher, according to Vanity Fair, and so began performing on Broadway when she was 15, and made her big screen debut in the 1975 comedy Shampoo. Assuming the role of Princess Leia two years later, of course, catapulted her to the status of a household name. And Fisher's legacy will live on and on: The next Star Wars film, in which she starts in her old role, is set for release in December 2017. Although she is no longer with us in person, her talent lives on.