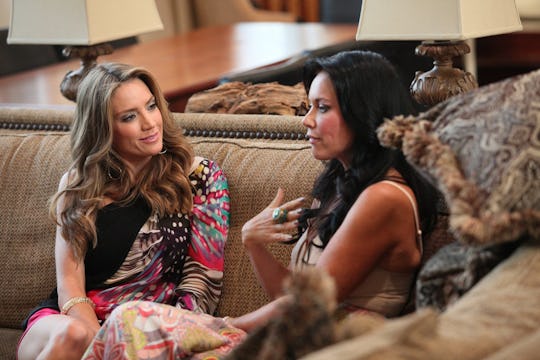 Peter Larsen/Bravo
How Did Cary Deuber Meet Her Husband? The 'Real Housewives' Couple Have A Lot In Common
Like many a Real Housewife, The Real Housewives of Dallas' East Coast import, Cary Deuber from Connecticut, is married to a plastic surgeon. But, unlike many of the other ladies, Cary works with him in the Operating Room as an Operator Assistant. Together, they create #boobsbydeubs (her hashtag, not mine), as every woman in Dallas needs a "good pair of boobs." Cool. But how did Cary Deuber and her husband from Real Housewives meet? Their story proves that you can meet your future partner just about anywhere.
Cary and her husband Mark Deuber first met when they were professional colleagues. Cary says she met Mark when he was a resident at University of Texas at Southwestern and she worked at Baylor University Medical Center. Cary's first marriage ended in divorce after just two years, and her second was annulled just months later. But, it looks like she finally found the relationship she was looking for, as she and Mark have been married for the past seven years and continue to be "besties" as she describes it. From the show, it definitely looks like the two have a strong marriage, but it is not without its share of needing defending. Cary has jumped to defend the integrity of her relationship from rumors that it started as an affair from the very first episode.
In the first episode she discussed her husband's 80 pound weight loss, which happened before their marriage. "It's not like I'd do it with him when he was fat," she joked, which she later clarified she meant as saying she wouldn't sleep with him when he was married. While that comment rubbed many people the wrong way for it's fat-shaming undertones (overtones), she says she was just trying to find another, perhaps more convincing, way of telling people that no, they did not have an affair.
And I said, 'It wasn't like we were doing it when he was fat.' But what I meant was, 'It wasn't like we were doing it when he was married.' I would have slept with him fat, skinny, whatever, but not married. And I did get a lot of hate about that, people thinking that I was fat shaming or saying something bad, and that wasn't at all my intention."
I understand her feeling the need to defend her marriage even more now after seeing the rumor mill in full effect in Episode 7. At LeeAnne's gathering, Cary arrived to a less than warm welcome, and some unpleasant gossip about how she "got" her rich husband — the implication being that she "stole" him from someone else.
Personally, I find this kind of gossip to be particularly nasty, and I don't blame Cary for being hurt. So will LeeAnne apologize next episode? Who knows. I don't think the former carny is malicious, but neither do I think she's the type of person who easily swallows her own pride. So, we'll see, but I doubt it will be easy for Cary to accept, even if she does get an apology.